If you're in a hurry, you can quickly check our top pick. The DiPug Canvas Ballet Shoes – made with top-grade materials, the shoe is available in a variety of colors that will suit your kid's preferences. Plus, their prize is easy on the pocket. 
Ballet is a historic dance activity for young people. The dance represents hard work, discipline, poise, and grace. But before your kids start their first practice session, you must get them the best ballet shoes for toddlers. 
With the array of toddler ballet shoes in the marketplace, it can be challenging to find the perfect fit for your little one. 
This review puts together the top 5 ballet shoes for toddlers. We also provide buyers guide section where all your frequently asked questions will be answered in detail. 
With that said, let's get started. 
In this article, I will review the following ballet shoes: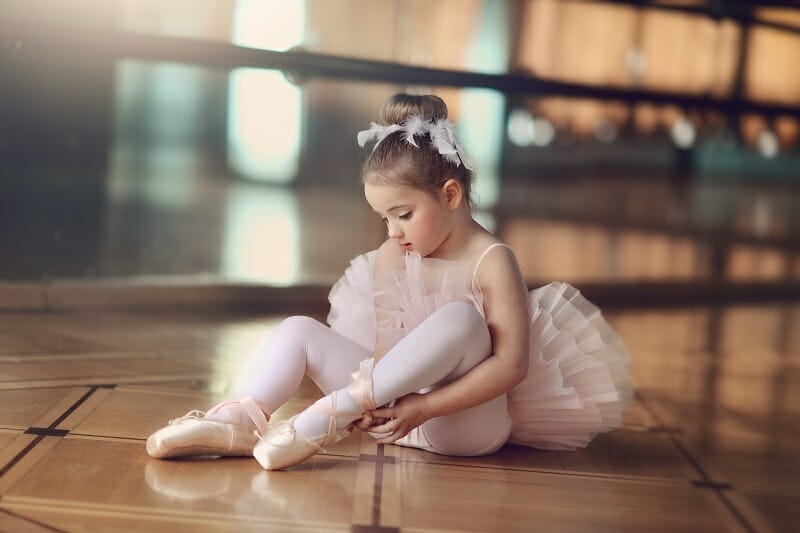 5 Best Ballet Shoes for Toddlers Reviewes
1. DiPug Canvas Ballet Shoes – Best Overall
Our top pick, DiPug Canvas Ballet Shoe, comes out as excellent and affordable ballet shoes that kids will love. 
The ballet shoe is available in a variety of colors including white, pink, black, and tan. The exterior layer of the canvas shoe is durable and moisture-resistant. 
Its toe shape design helps keep your toe balanced, while the drawstring and the cross-cross elastics ensure that the feet stay in shape. 
I'll suggest that you use the measuring chart to choose the right size for your child. 
For this ballet shoe – around size 2 should be perfect for toddlers while the big kid should make do with something in the range of size 6. 
Pros
Easily washable 
Decently priced 
Available in different colors 
Cons 
You need to use the size chart before purchasing. Else, may end up with the wrong shoe size. 
2. Stelle Canvas Ballet Slipper – Best Runner Up
Stelle has been around for over 20 years making premium quality ballet gears for kids of different ages. This ballet is made out of breathable, lightweight materials with leather or suede soles. 
This shoe is durable, top-notch quality, and available in varieties of shining colors like Black, tan, pink, and White. 
This unisex shoe fits quite rightly into the feet – thanks to the drawstring and criss-cross straps. 
For this ballet shoe – around size 5 should be perfect for toddlers while the big kid should make do with something in the range of size 9. 
Pros
Easily washable 
Quality design 
Available in a variety of sizes 
 Cons 
Requires the hassles of studying measuring charts before purchases. 
3. Stelle Leather Ballet Shoes
Here's another one from Stelle. The Stelle Leather Ballet shoes feature a leather sole and a sleek design, breathable upper PU. Made with cleanable materials and waterproof, wear-resistant sole, your little one will love this incredible piece of art. Pick your color choice between Nude, black, and pink. 
Furthermore, the ballet shoe is more of a criss-cross elastic. And feature the full elastic rim instead of the typical drawstring bow. This feature is a huge saver for kids who may want to undo the tie, potentially causing injury. 
For this ballet shoe – around size 5 should be perfect for toddlers while the big kid should make do with something in the range of size 3. 
Pros 
Flexible upper PU that molds perfectly to the feet 
Easily cleanable 
Cons 
PU may wear off after use for some while 
4. Capezio Love Ballet Slippers
Capezio Love Ballet Slippers have a split suede sole with a leather upper. Capezio has been around for a while creating excellent dancewear for all ages. They have a reputation for dancewear with amazing qualities. This particular pair is no exception. 
Capezio Love Ballet Slippers look so mature and professional on kids. The mid area of the shoe is made out of an elastic, mesh growth packet. 
The ballet slippers have linings designed with flowers, hearts, and Butterflies. Plus, cleaning them is a breeze. 
Your toddler will look good in size 8 while your growing little kid will look amazing in size 13. However, these ballet slippers are available in a few sizes. 
Pros
Cleaning is easy 
Fits perfectly with room for growth 
Professional look 
Cons 
Available in limited sizes 
5. Stelle Premium Leather – Best Value
The Stelle Premium Leather is the only full sole ballet shoe on our list with unmatched manufacturing quality. It is lightweight, soft, comfortable, has a great leather upper and leather sole. 
And keep in mind that you're not getting this quality and durable shoe at a cheap price. I think it's the most expensive on our list. But you're getting more than what you bargained for.  Stelle Premium Leather also comes with an elastic drawstring and a single elastic strap to fit perfectly on your toddler's feet. Available in Black, pink, and nudes, feel free to pick your color choice. 
Your toddler will look good in size 5 while your growing little kid will look amazing in size 3.
Pros
Soft, lightweight, and comfortable on the feet 
Made with high-quality materials
Cons
Not easy to wash (because of the genuine leather) 
Buying Guide
In this section, we'll be discussing all the vital information that you need before buying the best ballet shoe for toddlers. 
Since the goal is to help you find the ideal pair for your kid, we'll talk about the style, fit, and even brands. 
First, let's begin with feature comparison. 
Canvas Vs. Leather
Many parents prefer canvas ballet slippers because of the extreme comfort and flexibility they offer. More than the leather ballet slippers. This feature makes them a good fit for kids with wide feet. Canvas is lightweight and a perfect fit for the feet. However, the canvas material may wear off after a little stress. Leather is more durable than the canvas ballet slippers, more importantly, because children run around than adults. 
Split-Sole Vs. Full-Sole
Split sole ballet shoes boost flexibility, which makes them common among adult dancers. However, because kids don't have strengthened muscles, you should buy them full-soled ballet shoes. 
Full soled ballet shoes create resistance, keep the feet stabilized, and develop the required muscles. I've seen kids wear their split sole ballet slippers to school. And no complaints. 
What's the Best Fit for a Ballet Shoe? 
Having the right fit is probably one of the most critical features to consider when looking for the best ballet shoes for toddlers. Because the wrong fit can cause injury. 
A good ballet shoe should fit tightly into the feet without the extra support at the edge. 
The ballet shoe must be snug and create and create no curling or pinching on the toddler's toe. Pinching at the toddler's stage will only increase as they age. 
It's easy to identify the snug look on kids. But you can manually check by asking them to walk or jump. 
What's the Best Ballet Shoe Size for Toddlers?
It's common for parents to be tempted to buy a larger shoe size so they don't have to replace them when the kids grow. However, it's important to choose a shoe that fits perfectly on their feet.  
As you notice from the review, different brands have their requirements. So we'll briefly go through the sizing requirement for kids and toddlers as we proceed. 
7 Factors to Keep in Mind Before Buying Toddler's Ballet Shoes 
Keep the following factors in mind before buying your toddler's ballet shoes. 
Fit
Lots of brands out there create ballet shoes for kids. However, each brand has its unique cut, fit, and overall design. Some create wide shoes. And others, thinner shoes. 
 Some design their shoe sizes in formats like 1A, 1B, 1C; each with its different width. When searching online for ballet shoe brands for toddlers, be sure to find out about their shoe size and whether it is suitable for your kid's foot shape. 
Size
As aforementioned, every ballet shoe brand has its sizing which will ultimately affect the shoe size you'll buy for your little dancer. In other words, size 5 may fit your kid rightly in a brand, while for another brand, it's size 6. 
That's why you need to dive a little deep into research and ask questions (all the products we reviewed have their custom sizing) 
You can try multiple shoe sizes from different brands until you help them find the perfect fit. That way, it's easier to find the right fit. 
Shoe Type
Between the split sole or the full sole, which one will you go for? 
Or will you rather choose brands that feature inner soles for shoe support? 
Based on a recommendation, new dancers are usually advised to do leather shoes because of how they support the foot and provide more resistance to strengthen the feet muscles.  
However, this is only a theory with no scientific backup. 
It's only based on some teacher's preferences. 
I've been to multiple schools with personalized views on this subject. And surprisingly, my 4-year-old daughter who wore the canvas split sole ballet shoe never noticed any issue with her dance development, but the case might be different for some. 
Color
On a general note, you don't want to choose any other color for the girls except pink (I've seen some schools mandate white for girls).  Boys will love to feel like a king in white or black ballet shoes. 
Overall, ask your school for information regarding color choice before hitting the purchase button. Because, for example, reds are so flashy that your kid will love it and would want to dance with them all day long. 
Material
So what material would you opt for? Satin? Leather? Or Canvas?  For the young folks, the choice is best limited to leather and canvas. And ultimately, something within your budget or your school's preference. So keep this factor in mind when making your buying decisions. 
Robbins and Elastics 
Most toddler's ballet shoes have pre-attached elastics. 
Some only have one side sowed which means you can have the other side sown. 
Other ballet shoes have double crisscrossing elastic. You need to sew one of its sides. If you're not handy or just don't have the time to sew, just go for one with an elastic pre-sew. 
Price
How much are you going to shell out on a pair of ballet shoes? 
Fortunately, ballet shoes happen to be the least expensive among all popular dance shoes. Tap shoes and jazz shoes cost way more. 
The material makes up of a shoe will largely determine its price. However, technologically advances shoes can cost way more. 
Here's a golden rule of thumb when it comes to the prices of ballet shoes: the lesser the price, the lesser the quality. Low-quality shoes will discourage your kid or even eventually fall apart. 
A shoe is meant to support your kid not to discourage their dance. 
In a nutshell, the price may be ranging anywhere from $15-$40 for a decent ballet shoe keeping all factors in check. 
Any Difference Between Male and Female Ballet Shoes? 
Yes! No! 
Boys generally have wider feet than girls because it grows simultaneously as they mature. Boys usually wear white or black shoes so some brands create shoes to sort out these differences. 
However, there's no much difference between children's shoes especially because of the discrepancies in shoe sizing and widths.   
Summary 
Ballet shoes have been around for a while, serving ballet dancers from all over the world. 
Our top pick is the DiPug Canvas Ballet Shoes which comes out as a top grade and affordable ballet shoe that kids will love. 
The ballet shoe is available in a variety of colors with durable and moisture resistance exterior layers. 
Our runner up is the Stelle Canvas Ballet Slipper. 
This ballet shoe from Stelle is made out of breathable, lightweight materials with leather or suede soles. 
It is also durable, top-notch quality, and available in varieties of shinning colors like Black, tan, pink, and White. 
All the ballet shoes reviewed are top-grade quality, affordable, and available in series of colors. Good luck with your choice.
Ballet Gears:
Read more: