If you're in a hurry and just want to know which ballet foot stretcher would be the best, then I would recommend,Ballet Foot Stretch, as your best choice. 
As a ballet dancer, a strong and flexible foot is key to a successful career (or training). With flexibility training being a crucial part of a ballet dancer's daily routine, stretching and molding the feel is an activity dancers perform right from the first day.
Over time, an instructor monitors factors like flexibility range and arch formation to clarify whether a dancer will improve or not. Bad feet have ruined a lot of careers. 
We get it, dancers can do anything to get ahead, but those things can be risky. A lot of dancers end up injured due to bad feet.
Some dancers still use low-quality, outdated foot stretchers that end up causing more harm than good. Young dancers have a higher risk of injuries because their feet are not yet developed and they may have no idea what they're doing to their feet.
The best solution to safe feet is to use one of the Best Ballet Foot Stretchers. 
They're designed to support proper stretching of the ligaments and muscles for a great form. It doesn't matter whether you're a  beginner or you've been around for a while, a foot stretcher can benefit ballet dancers of any skill level.
While there are boatloads of foot stretchers in the market, we've put together 5 of the best that anyone can use:
In addition, you need to consider some factors before making a purchase. We've included that too.
That said, here are the best 5-foot stretchers in the market.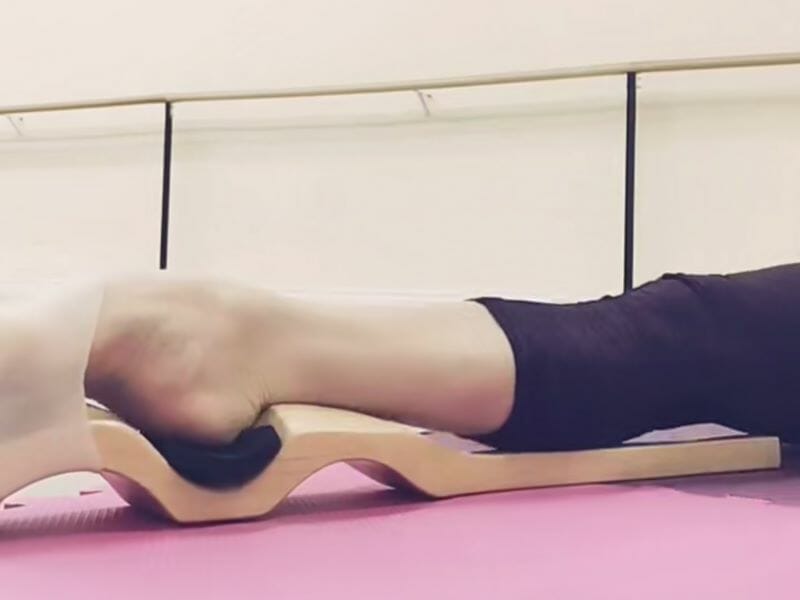 5 Best Ballet Foot Stretcher Reviewed
1. Ballet Foot Stretch: The Original
The Ballet Foot Stretch is a popular foot stretcher used by professionals and amateurs from across the world.
The wooden stretcher is incredibly designed to improve strength and promote flexibility.
The shape supports the foot and ankle safety without applying excess stretch to the Achilles Tendon.
It's also super helpful when trying to break into your new pointe shoe, which is a huge plus. 
Although you're going to spend some money, the product will last for many years. And because it has no fabric or wears, it will never wear out and you can always order a replacement band if you need one.
Pros
Available in two sizes
Easy to clean woods design
Suitable for easy break into pointe
2 years warranty
Cons
Can be bulky for young ballet dancers
A little pricey 
2. La Esmeralda
If you need an affordable alternative to the Ballet foot stretch, you may want to check out the La Esmeralda.
It comes out at a similar quality to the Ballet foot stretch but at a more affordable price (presumably half the cost). 
Its flat design makes it easy to store and carry along when traveling. This stretcher is also recommended for anyone recovering from surgery or someone into gymnastics and yoga.
They're also available in different patterns and colors, making them a suitable fit for young dancers.
However, younger dancers using this stretcher for the first time must be monitored. 
Because it offers lesser support to the foot and the heel (compared to the Ballet foot stretch), beginners must be extra careful to avoid injury. It's a tool to enjoy when used the right way.
Pros
Available in a variety of colors and patterns for the young dancers
Affordable
The flat design supports easy carry and storage.
Cons
Too Stiff for newbies
Fabric may need constant cleaning/replacement
Flat design may cause injury 
3. Superior Arch Foot Stretcher
The superior Arch foot support is another affordable foot stretcher.
Its design is closely similar to the Arch Genie, with slight differences like the extra padding for comfort and stretchability.
The best part of this stretcher is the Velcro foot strap. Unlike the above-reviewed stretchers,  the strap is adjustable to any size or flexibility level. We recommend the Superior Arch Foot Stretcher for younger dancers looking for a stretcher they can adjust as their feet sizes increase.  
Pros
Available in multiple colors.
Adjustable Velcro toe strap improve the perfect fit
Properly padded for safety 
Cons
Doesn't come with a heel groove
Difficult to adapt to adjustable straps
Fabrics require extra maintenance 
4. StretchPRO Stretching System
stretch is available in a super simple rocker design that focuses on foot muscle, Achilles, and calf muscles. It makes up a good fit for ballet dancers with its ability to boost strength in the lower leg, enhance flexibility, and improve mobility.
This stretcher is also recommended for anyone recovering from surgery or someone into gymnastics and yoga. Its portable design makes it easy to store and carry along when traveling.
On the flip side, some users claim that it is not as durable as advertised. But still manageable.
Pros
Easy to use
Highly effective at relieving lower body pain.
Easy to store and carry around
Cons
5. Revoq premium professional Wooden foot stretcher
Like most brands out there, the 66fit Achilles and Calf Stretcher come in a rocker design. It allows you to stretch your foot and calf flexibly.
This promotes ankle flexibility, feet strength, and can support pain relief. 
In addition, the product has two stretchers which means you can exercise on multiple feet at once. It is portable and super easy to use.
However, its rocker design can affect your balancing when using it. Try to hold on to a wall when using both stretchers at once.
Pros
Multiple pairs for easy exercise on both feet
Portable
Easy to use
Cons
Rocker design may affect balancing
Foot Stretcher and How It Works
A foot stretcher is designed for dancers to stretch their feet and help their arches. 
Mostly made out of woods, it is a rigid bar where a ballet dancer places their foot into to stretch the ligament and muscle.
They're considered a safe option from other methods like traditional stretching and exercise bands. 
Because of their ability to support the foot, dancers won't experience overstretching or bad form development. This is a crucial factor every young dancer should consider especially because of their ongoing foot growth.
It's suitable for pre-training stretching and perfectly suited for breaking in pointe shoes. Most foot stretchers are customized to suit your feet.….and features padding. In addition, they're also available in beautiful colors and designs for the younger folks to enjoy. 
What are the Types of Foot Stretchers?
Dancers stretch and strengthen their feet in different ways. Although food stretchers are the most expensive options, they're also considered the safest option. 
With the foot stretcher, dancers can stretch their feet properly while supporting the heel to avoid injury.
Some ballet dancers use exercise bands instead of a foot stretcher. While exercise bands are way cheaper (usually under 20 bucks), they require a bit of extra training to use.
And because it doesn't support your foot as you stretch, this may cause injury. I think exercise bands are a suitable fit for only advanced dancers. A beginner will find it challenging to use. 
The cheaper way to stretch your feet is to not use any tool. This involves stretching your feet with your body weight. Again, this option is not safe for beginners.
What Safety Concerns Should I Consider When Purchasing a Foot Stretcher?  
Just like when purchasing any stretching too, you need to consider certain factors.  When looking to purchase a foot stretcher for a beginner dancer or a toddler with growing feet, you should keep the following factors in mind.
Is the foot stretcher properly fitted to the foot? Is the device or strap adjustable to my desired size for a perfect fit?
If your feet are still growing, can this foot stretcher grow with them or will you need to replace it as your feet grow? What is its material makeup?  Are they durable enough to withstand my dancing impact?  Is the stretcher supportive of the for when stretched? Although a stretcher may not be super easy to use,  it should not be painful.
Do they have a warranty or a return policy in place if the stretcher doesn't work?
You should contact your doctor before use especially if you've got a flatter arch. And that's because foot stretchers always worsen the problem of people with flat arches.
Although foot stretchers are presumably safe for younger dancers above 8 years, clarify from your doctor before allowing your child to use a stretcher. We don't recommend a foot stretcher for a younger kid because they're not designed for developing or underdeveloped feet.
If you're not sure a foot stretcher will suit your feet, check with your doctor before buying one – especially if you're buying for a kid. 
What to Consider Before Buying a Ballet Foot Stretcher?
You have a variety of options to choose from when you're looking for the best ballet foot stretcher.
There are lots of different brands with great designs with each of them making impressive promises. To assist your buying decision, keep the following  considerations in mind:
Purpose of Use 
So the first factor you need to always keep in mind is the purpose for use. Manufacturers usually include this in their specifications.
While some feet are designed for ballet dancers, others are suited to physical therapy.
You can use others in different ways. Identify what the manufacturer designed the stretcher for and if it meets your needs. All the foot stretchers on our list are specifically designed for ballet dancing.
Quality
Avoid purchasing stretchers that may break after a few weeks. Confirm if it meets all key quality standards. One of the best ways to confirm their quality is to read users' reviews of the product.
Is it durable enough to use? Did it last for long or was it damaged after a few weeks? 
Ease of use
Foot stretchers are generally easy to use so there's not much fuss about this. Avoid those with complicated designs without a comprehensive user manual.  
FAQ
Do I Need Electricity to Use a Stretcher?
No, you don't need electricity to use a foot stretcher. This means they can be used anywhere and whenever you want to. An electric foot massager is what you need if you're on the hunt for powered devices for the feet.
Can a Foot Stretcher Relieve My Foot Ache?
A properly and regularly used foot stretcher can reduce pain in the foot and calves. Apart from ballet dancers, it is recommended for people having pain and soreness of the arch. Use it when your feet hurt after a hectic workday.
When Will I Start Noticing the Result?
This comes down to the stretcher type,  how regular you're using the foot stretcher, and how well you use it. While some people start getting results after the first use, others use it for a long time before getting noticeable results.
How Do Foot Stretchers Work?
Foot stretchers work differently and according to designs.  But on a general note, they provide the flexibility to stretch your ankles, arch, and calf muscle. 
Foot stretches are designed to support a certain level of flexibility and stretching. That way you can begin small and gradually improve your stretch.
How Long Should I Use My Foot Stretcher?
To prevent muscle injury and straining, use your stretcher between 2-5 minutes per day. You can plan out your daily stretches to match up with your workout or just include it in your workout routine.
Does a Foot Stretcher Support Flat Feet?
Foot stretchers can help reduce muscle strain, pain, and issue with fallen arches.
You can get in touch with your physiotherapist on the type of foot stretcher to buy.
Final Thoughts 
A foot stretcher designed for ballet dancers is an effective way to keep the foot stretched and strengthened. Some options out there are more effective than others.
Our top pick is the Ballet Foot Stretch. It is a  popular foot stretcher used by professionals and amateurs and incredibly designed to improve strength and promote flexibility.
It's also super helpful when trying to break into your new pointe shoe, which is a huge plus.
If you need an affordable foot stretcher, you may want to check out the La Esmeralda.
Overall, all the products reviewed are uniquely designed for individual purposes.
Ballet Gears: