If you're in a hurry and just want to know which ballet pointe shoes would be the best, then I would recommend,Russian Pointe Rubin, as your best choice. 
A memorable day in the life of a ballet dancer is the day she puts on her first pair of pointe shoes.
Pointe shoes are unique, highly desired, and loved. Apart from their primary function of allowing a dancer to stand tiptoes, pointe shoes also boost ballet aesthetics, increasing the dancer's line, making the dancer look like he's floating on air while creating magic.
On the flip side, a poorly fitted shoe can affect your dance, and it must fit perfectly well to prevent pain or injury.
In this guide, we've put together 5 of the best ballet pointe shoes available for purchase, including top models from popular brands like Capezio, Grishko, Sansha, and Bloch. You'll find your ideal choice.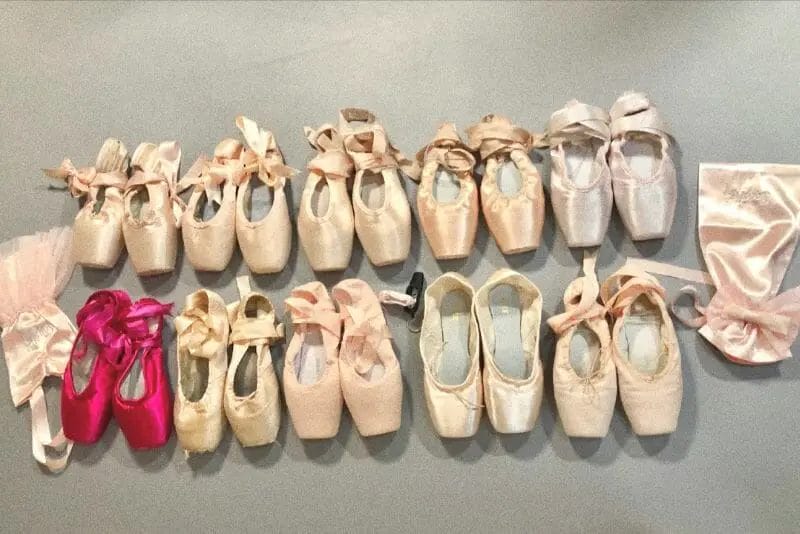 Top 5 Ballet Pointe Shoes Reviewed
1. Russian Pointe Rubin
Russian Pointe Rubin shoes have been around as far back as a decade. It is a suitable shoe for dancers who have square toes but you're also good to go if you have a wide foot shape. 
The unique feature of this shoe is its light shade of pink satin that looks similar to white – a pleasing look for flashy roles in stage performance.
To reduce the break-in time, the creator created the pre arched shank which looks like an arch with a kite appealing look and en pointe. Being able to use the shoe with less manual bending can help increase the shoe's lifespan.
Perfect for virtually all shapes of foot, this minimally tapered toe box can support all feet types.
In addition, it offers a wide platform and beautifies and elongates your lines.
You can get the Russian Pointe Rubin at a pretty decent price. The price is comparatively lower than most reputable brands.
Overall, the pointe shoe is a great fit for dancers with wide feet. The V shape and U shape amp, and 4 shank strengths are some of the options to explore in this pointe shoe. 
Pros
Supports all foot shapes but is more suited to square toes
Beautifies and elongates lines
Available in a light shade of pink satin for flashy stage dance
Less manual bending boosts lifespan. 
2. Grishko Elite
This pointe shoe is produced by Moscow cobblers who worked with different dancers to create a perfectly fitted shoe. Grishko Elite is best suited for people with square toes and wide feet.
It is made with toxic materials, is designed to maintain balance on your leg, and is crafted with some of the finest satins in pointe shoes.
The Elite isn't preached, which makes it different from most Grishko models. Pre-ached comes to the rescue when a dancer who is not en pointe wants to achieve stability. This encourages smooth transition and a beautiful floor feel for amazing results.
Grishko, as it does to most of its branded products, allows you to combine your best shots. Whether it's 2 of 6 widths, 2 shanks strengths, or classy drawstring on the shoe, your choices are excellent.
Grishko doesn't make unnecessary changes to its pointe shoes, so you can also trust the quality of the model you're getting even when you want to go back to them.
Although the pointe shoe comes at a little higher price point compared to other pointe shoe brands with similar quality, the price is still easy on the pocket.  The higher price point is justifiable by the world-class construction and design that Giselle- footed dancers can't wait to have. Comfort, easy fitting, quick break-in, you will enjoy this dancing shoe.
Pros
A suitable fit for dancers with square toes and wide feet
World-class construction material
Easy customization option for best fit
Cons
A little pricier for budget-conscious people
3. Freed Of London Studio 2
No products found.
When it comes to toe shoes, freed of London is a brand to reckon with. A perfect fit for professional and intermediate dancers, freed of London Studio 2 offers the support and stability needed for a professional stage performance. Every movement you make on this pointe shoe is monitored for safety – thanks to its wide platforms, strong toe box, and V-shaped vamp. 
The flat profile and wide platform combine to offer an incredible fit for ballet dancers with square toes and wide feet. 
Freed Of London Studio 2 uses a sturdy toe box to prevent further damage or extra pressure to the toe. And on the sides of the shoe are strong wings securing the dancer's foot in place.
We recommend studio 11 for those with wide feet. Thanks to its deep vamp length and the wide platform for wide-feet individuals.
Even with the brand's support and reliability, you can still get it at a pretty fair price. 
If you want to scale your performance without spending beyond a reasonable budget, Freed of London studio 11 is the way to go.
Pros
Best for people with wide foot
Reasonably priced
wide platforms, strong toe box, and V-shaped Vamp promotes safety
No products found.
4. Bloch Women's Dansoft II 
Bloch is a household name when it comes to dancewear. Dansoft 11 is the result of Bloch's constant creation of amazing improvements to traditional pointe shoes. It is a ready-to-wear pointe shoe for someone who doesn't have the time to prepare for training/performance dancewear.
Bloch describes Dansoft II as "the brand most lightweight variety" – which is a suitable fit for difficult allegro combinations. Elegance is sold in 3 widths. 
Its upper area is made with stretch satin – a material in the heel area which conforms to the foot and doesn't break the line. 
Low profile doesn't allow wobbling on the flat and the flat platform supports turns and balance. The interior features shock absorption in key areas like the toe box. In addition, the noise reduction technology comes in handy for stage dancing.
The pointe shoe features Bloch's release insole to provide dancers with a pair of pointe that allows them to roll into pointe.
In addition to the insole is a split sole outsole with great traction for optimal control. When it comes to price, Bloch is not cheap. Like most Bloch models, you're getting this amazing wear at a price above average. But if you're on the lookout for a fuss-free option, it's a great choice.
Pros
Ready to wear pointe shoe
Very lightweight for easy movement
Shock absorption in the interior for proper traction
Cons
5. WENDYWU-Zapatillas
This is another suitable shoe for anyone looking to hone their dancing skill. Comfort and flexibility are possible for every movement you make on WENDYWU-Zapatillas with the lighter box wings and shank.
Along with the average length V-shaped vamp and the medium platform is the tampered toe box suitable for dancers with the long second toe. Unlike most models, the WENDYWU-Zapatillas do not squeak.
You may struggle with mastering the V-shaped vamp at first, but once you do, you'll find that it's an incredible piece of feature for consistent movement.
The sturdy yet flexible shank supports your movement for proper stability. 
Grishko Maya comes with a cotton drawstring that keeps the shoe secured to the foot. This feature is pretty much better than elastic (according to plenty of users) because it doesn't affect your circulation.  
A strong, beautiful glue holds the shoe together while promoting aesthetics and ensuring feet protection. 
When it comes to price, WENDYWU-Zapatillas is on the average side of the price spectrum. Because it's from a reliable brand, you're getting a high-quality shoe that can provide all the support and stability needed for stage performance. The price is still much affordable with impressive features that make it a great option for ballet dancers.
Pros
The tampered toe box is suitable for dancers with the long second toe
Cotton drawstring keeps the shoe secured to the foot
Reasonably priced
Cons
Mastering the V-shaped vamp can be challenging
Factors to Consider Before Choosing the Best Pointe Shoe 
Fit
To dance well and professionally, you'll need a pointe shoe that fits rightly into the feet. If you've ever seen a ballet dancer, you'll notice just how much of a burden the feet take when dancing.
In ballet dancing, not only will you need to jump, balance, dance, and run with your toe tips but also make these moves beautiful and easy while focusing on areas like the head, line, posture, arms, and turnout.
This means you have to choose a pointe with the pliable best fitting which gives you the confidence to focus on your dance and not to worry about your feet.
First off, a properly fitted shoe may not be entirely painless because you'll still need to rest your body on the feet, but it should be comfortable. 
Alignment 
Before you add your weight to the shoe, you need to confirm if it also works en pointe. Put the tip of one of your feet on the ground and rest your weight on the other one. Next, press down a little – check the box and see if the fit sounds good.
The foot should not sink deep inside the shoes and you should feel the support and no excess satin around the heel. 
Size
The toe box is a critical area of the pointe ballet shoe. When a dancer dances en pointe, his pressure and weight push against the toes. 
This means that only a strong, durable, and reliable shoe can allow this kind of dance.
The shank and the toe box work together to support and stabilize the toes. Make sure you know the size and shape of your toes to get the correct shoe.
Not only will your toe shape determine the toe box size needed, but also the vamp length and shape.
Most toe boxes are usually designed in 3 shapes, including the square, slightly tapered, and tapered. You must feel snugly and comfortable in the shoe and not too loose or tight.
Think of the fact that you're going to put a lot of pressure on your toes during the en pointe dance so make sure these areas are fitted properly.
The vamp in your shoe covers your upper toes and determines your en pointe position. You may fall over if it's too short or you may be able to stand fully en pointe if it's too long. Your toe length will determine the length of the vamp.
Also, your arch will determine its shape. We suggest a V shape vamp for people with higher arches looking for extra support against pushing above the platform. 
Adjustability
Dancing en pointe can add pressure to the arch area of your foot. Your archer shape will determine the actual support and profile position your shoe needs.
Arch is mainly used to determine the actual size of most areas of the shoe. For example, it can determine the shank strength, vamp length, and profile height. Dancers usually concentrate on creating a deep, flexible arch on their foot and you can only achieve this with a great shoe.
When it comes to choosing a pointe shoe, always ensure that your foot's arch fits comfortably and securely within the shoe.
The arch and the profile height should be compatible with the level of compression against the shoe.
Shoes that don't properly fit within the arch can raise health issues like stress fractures. Even if other parts of the shoes look good, the wrong profile height may be a deal-breaker.
Dancers have different flexibility levels and that's why profile height may vary. A higher profile means a deeper arch. You may need to apply the trial and error approach to find the right profile height. 
The easiest approach is to answer your finger beneath the shoe's throat. If your finger easily fits underneath, it means you have a too high profile which you should lower. 
Final Thoughts 
Dancing tiptoed can be risky. So you need the best ballet pointe shoe to get ahead.
Our top pick is the Russian Pointe Rubin. This shoe improves your poise and carriage while offering comfort and stability.
It is available in multiple colors for males and females at a decent price. Overall, all the products we reviewed are top-notch from popular brands and they're unique in their ways.
Read more:
Ballet Gears: