When setting up a dance space, there are so many factors involved. Choosing the best flooring is at the top of the list. There's so much to consider, such as shock absorption, safety, and sufficient support, but you don't have to stress. Let us help you sort through it all.
Choosing the Best Flooring for Your Dance Studio
Whether you own a dance studio, you're setting up a temporary performance space, or are a dancer looking for the best studio flooring for at-home practice, it's worth it to take your time and explore all of your flooring options.
Here's an overview of some floor covering options, approximate price ranges, and additional points that stood out.
| | | | | |
| --- | --- | --- | --- | --- |
| | Marley Rosco Rolls | Marley Adagio Rolls | Modular Tiles | Woodlike Rolls |
| Material | Vinyl | Vinyl | Polypropylene base; vinyl top | Rubber base; Vinyl top |
| Cost | 💲💲 | 💲💲💲 | 💲💲💲💲 | 💲💲 |
| Thickness | 1.2 mm | 1.5 mm | 9.5 mm | 7 mm |
| Installation | Easy; Temporary | Easy; Temporary | Moderately easy; Temporary | Somewhat easy; Permanent |
| Dance Styles | Ballet, Contemporary, Jazz, Lyrical, Modern, Hip-hop | Ballet, Contemporary, Jazz, Lyrical, Modern, Hip-hop, Tap, Flamenco, Ballroom, and Irish step | All styles | All styles |
| Typical Duration | 3 to 5 years | 5 years or more | 3 years | 10 years |
| Features | Reversible; Economical; Durable | Versatile; Won't absorb sound | Polished look; Social dancing | Highly durable; Fade-resistant; Mold/mildew-resistant |
| Surface | Matte; Slip-resistant | Matte; Non-reflective | Satin; Semi-reflective | Non-porous |
Now let's look at these factors more closely.
1. Don't Skimp on Subflooring
Dancing is a high impact activity. A lot of dance routines – ballet, tap, jazz, and more – incorporate jumping. Landing on a hard surface can be harmful to the body. Blunt impacts can lead to injuries. For example, some male dancers performing lifts land with a force the same as eight times their body weight.
Putting a base layer beneath your top flooring creates a softer landing. Another reason to consider using subflooring is to prevent exhaustion. The impact can be so taxing on your body that you become extremely tired and might struggle to make it through a routine.
Subflooring helps protect dancers' bodies. It is usually made of high density foam or sprung dance flooring panels. 
This supportive cushion is ½ inch thick and can be assembled and disassembled in a short amount of time. It's made of high-density EVA foam and would also protect your floors from any damage top flooring might cause. This option is more fitting for a home dance studio.
There are also interlocking options made from engineered wood that are more geared towards a dance studio for advanced and/or professional dancers.
These panels are portable but they're not meant to be disassembled often. If you happen to change studio locations, then it would be possible to pull apart these panels and take them to your new studio without causing damage to them.
You can expect more shock absorption when installing spring subfloors like these. These panels are significantly more expensive than the high-density foam option but will likely last for the lifetime of your dance studio.
Lastly, consider that subflooring can help prolong your dance career due to softer landings and fewer injuries. The only caveat for both is that they have to be placed over hard flooring, like concrete or wood. You can't install dance flooring on top of carpet. 
2. Marley Flooring: Rosco Dance Rolls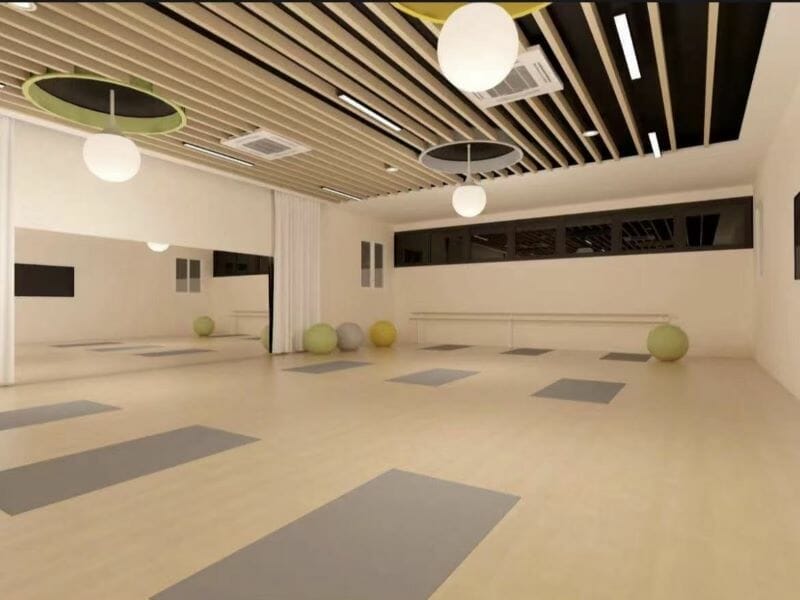 Although essential for every dance studio, it would be unsafe to dance directly on top of subfloor tiles. The premier flooring option for dance studios is the Marley flooring roll. You simply roll it out over your subflooring and secure it in place with dance floor tape.
Marley rolls are made of flexible vinyl. It's slip-resistant and doesn't require grip socks. This flooring offers a balanced combination of slide and grip. It's a supportive, even surface that's easy to clean and install.
In terms of dance styles, you can dance on Marley dance flooring in almost any genre. More specifically, this floor roll works best with traditional dance styles, like ballet, contemporary, jazz, lyrical, modern, and hip-hop.
You can install Marley flooring on top of subflooring in professional and home dance studios. Typically sold by the foot, it can get expensive but it's also durable. An example of this black or gray reversible flooring can be found here.
It is 63 inches wide, or a little over 5 feet. Its length ranges from 15 feet to 60 feet, depending on your space. At 1.2 mm, the vinyl is thin enough to cut down to your desired length. 
Depending on use, Marley flooring can last three to five years, possibly longer. You'll be getting a lot of value for the price.
3. Marley Flooring: Adagio Dance Flooring
Marley dance studio flooring is available in different surfaces in order to accommodate various dance styles. In addition to ballet, contemporary, lyrical, jazz, modern, and hip-hop, Adagio flooring can also handle the intensity of tap, Flamenco, Ballroom, and Irish step.
This flooring is much more versatile. It's ideal for studios that offer a wide range of dance classes.
Another point that makes Adagio different is that it doesn't absorb sound. This means that tap and Irish dancing steps won't be muffled.
It's 1.5 mm thick, which is still lightweight enough to offer an ease of installation and modifications, if necessary.  This flooring comes in either black or gray. Like the Rosco version, Adagio has a matte, non-reflective surface. Unlike Rosco, Adagio is not reversible. 
Its set width is also 63 inches. Lengths range from 12 feet to 60 feet, here's an example. Depending use, Adagio flooring can last five years or more.
4. Modular Dance Flooring
If you're going for a more polished studio look, then you might want to try faux wood dance flooring.
Faux wood flooring makes the dance floor more attractive to students engaging in social dancing. So this look is good for Ballroom and Flamenco dance studios. But you can also practice or perform ballet or tap on this flooring because this flooring can tolerate both hard and soft shoes.
Modular dance flooring is also referred to as dance tiles. You can easily lock the wood-look flooring into place over whichever subflooring option you choose. Depending on the size of your space, you'll order enough tiles to snap together, making it moderately easy to install. Edging is usually included – offering a safe and smooth transition into the dance space.
Both lightweight and portable, you can also install modular tiles in your home dance studio. Each tile weighs two pounds and is typically 12 inches by 12 inches. They're made of plastic or polypropylene that's covered with vinyl faux-wood adhesive. Wood finishes vary, but can include oak, maple, dark maple, barnwood, or beachwood. They're often also available in plain black or white. 
You can choose the number of tiles you'll need to fill your space. The tiles in this example are ⅜ inch (9.5 mm) thick and additional tiles can be purchased to cover whatever portion of your studio you'd like to see this flooring.
For couples dancing, it's recommended that you allow 9 square feet for each couple. To put things in perspective, 64 square feet of flooring can comfortably fit up to eight couples. 
You can easily vacuum, sweep, or mop this flooring for low-key maintenance. It should last at least three years. 
5. Woodlike Dance Flooring Rolls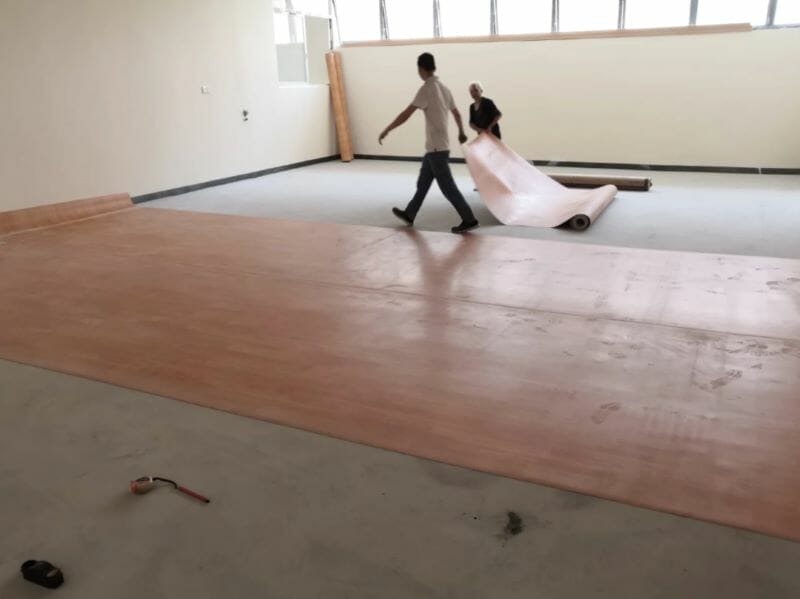 If you're uninterested in snapping together tiles, you can still attract customers with fancy faux wood flooring that's even easier to install. For this look, you might be able to find rolls of faux wood dance flooring.
Wood Look Marley dance rolls have a cushiony, shock absorbing, 5 mm rubber base that insulates sound. This floor won't create joint friction during your students' landings. It offers your dancers optimal comfort with an aesthetically pleasing style.
The 2 mm top layer is made of vinyl as a printed wood adhesion. Total thickness is 7 mm.
Highly durable, it's resistant to wear and tear. If your dance floor is near a window, you don't have to worry about the flooring fading in direct sunlight, either.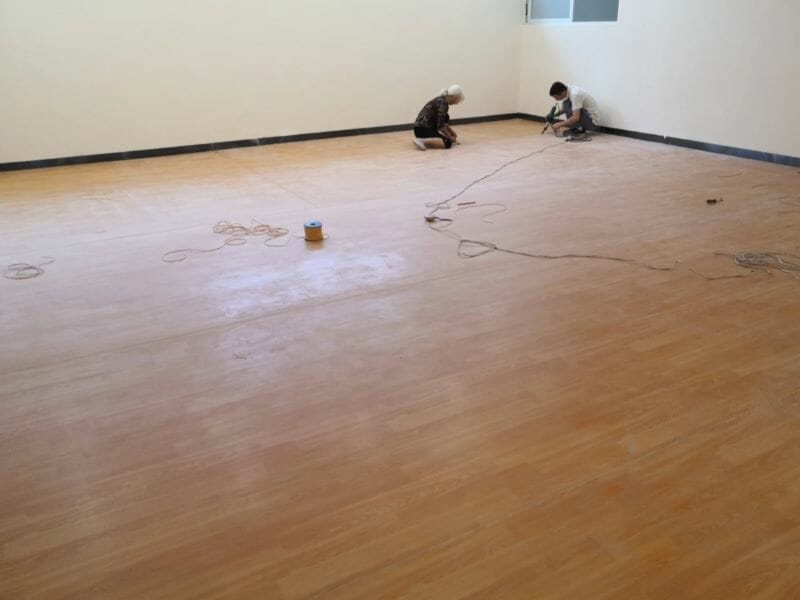 Also adding to the durability of this flooring, the top surface is mold and mildew resistant. In addition to contributing to long-term usage, this non-porous surface is a more hygienic option for your dance studio. 
Each roll is 6 feet wide. Length ranges from 25 feet to 45 feet. Unlike the modular tiles, this flooring option is permanent. When installing, you would use either double-sided tape or glue to hold the rolls in place. This flooring can last up to ten years or more. 
Wood dance flooring rolls are versatile as well. Your dance studio can offer many different types of dance: ballet, tap, jazz, hip-hop, contemporary, Irish step, ballroom, and more. This surface is hard or soft shoe ready. Even home dance studio use is appropriate for this flooring.
Conclusion
Dance studio flooring is as personal as the style of dance you choose. Most flooring surfaces are made of vinyl. In order to select the best flooring for your needs, you'll want to consider:
Type of dances best for this particular flooring
Expected wear and tear
Amount of floor space needed for each student or couple
Floor cleaning and maintenance
Installation difficulty level 
Feel of the floor surface
You may also want to think about whether you'd like the flooring to be temporary, semi-permanent, or permanent. Remember that up front costs may seem steep but can offer value over time.
If you liked this article, be sure to share it on all the socials!
Read more: