If you're in a hurry and just want to know which dance flooring would be the best for home use, then I would recommend,IncStores 1.5mm Marley Floor Roll, as your best choice. 
Many dancers find themselves dancing at home, whether it's for personal practice or an online class. It can be difficult to dance on the usual carpet or hard floors that may be present in the home. 
There are a couple of different options for at home dance flooring. The best choice for you depends on the style of dance and the space that you have for dancing. However, a Marley floor roll is often the best way to go for general dance use. 
In this post, I will review the dance floors:
This guide will walk you through some of the best dance flooring products for home use ranging in size, price, material, and portability.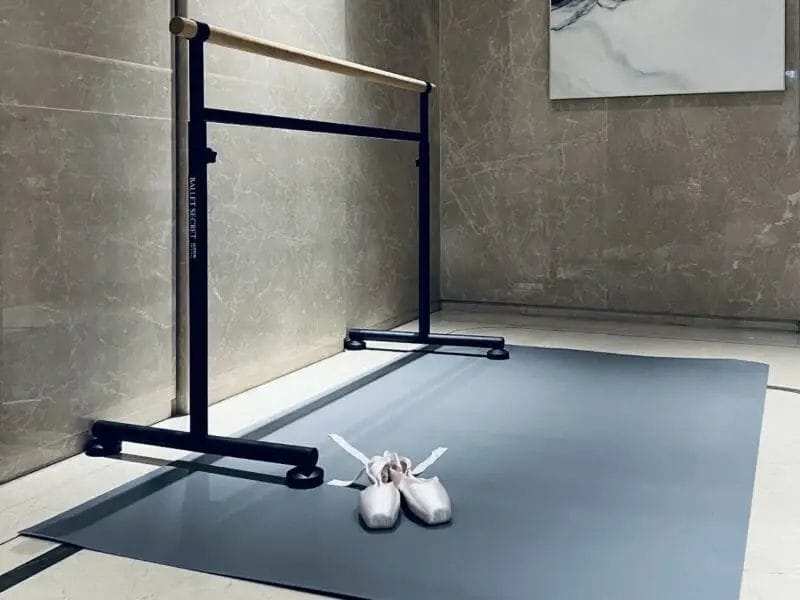 5 Best Dance Flooring for Home Use
1. Best Overall: IncStores 1.5mm Marley Floor Roll
IncStores 1.55 Marley Flooring can be purchased in a 5.25 foot wide roll that comes in a variety of different lengths. You can buy multiple roles to accommodate the width needed for your specific space. 
Marley flooring is the same flooring used on stages and a lot of dance studios. This means that dancing on it will feel very similar to other common dance floors. This is great for pointe work as well as most other dance styles. It is versatile and familiar for dancers. 
Pros
Marley flooring rolls are easy to set-up. All you have to do is roll them out and tape them down.
This marley flooring roll is very versatile. It can accommodate most dance styles, including pointe work. That means that you can practice different styles right from the comfort of your home without having to change the flooring. 
Marley is the type of flooring used on most stanges and in many studios, so you have the benefit of practicing on what you can expect to dance on elsewhere.
Cons
Marley flooring rolls can be difficult to store if you are only using them for a short period of time. These are bulky and could potentially lead to some storage issues, especially if you have multiple large rolls.
Because of their fixed size, marley flooring rolls can be difficult to customize to your space's shape if it isn't a clean rectangle. 
Marley flooring isn't very portable, so if you need to move it around, it can be a bit of a hassle to take all the tape off and roll up each piece of flooring.
2. Best for Odd Shapes and Sizes: IncStores ⅜ Inch Dance Tiles
IncStores also makes ⅜ inch dance tiles. Dance tiles are basically small square tiles of dance flooring that interlock with each other to create a custom shaped surface. 
These are a fantastic option for tap as well as other styles of dance such as ballet. If your space is limited or an odd shape or size, then these tiles work really well for filling as much of the space as possible with dance flooring. 
Pros
These tiles allow you to have a customizable shape and size of flooring. This is great for odd shaped spaces.
Dance tiles work great for tap dancing. They are loud and allow you to tap without damaging your floor. 
Dance tiles can work for many styles of dance, so you can practice many styles on it without having to change flooring. 
Cons
Dance tiles can be hard to jump on. They have a very hard surface that doesn't do a great job of absorbing the impact. 
High quality dance tiles, like these, are expensive. The customizability and other benefits may make up for the price, but if you are on a budget, then this may not be a great option for you. 
3. Best Portable Floor: Dot2Dance Portable Dance Floor
The Dot2Dance dance floor is a portable Marley floor. This floor is round and can be used with pointe shoes, as a turn board, or as a tap floor. This small floor is easy to carry around and can be used for a variety of purposes. 
Many dancers choose to invest in one of these floors simply because of their portability. You can use the floor anywhere, including outside. This means that you can practice any non-travelling dance moves most anywhere. 
Pros
The Dot2Dance Portable Dance Floor is easy to carry around in its case and it can be used most anywhere. 
This round dance floor is relatively small and can fit in a lot of different spaces allowing for turns, taps, and pointe work to happen in most places. This is especially helpful for unconventional dancing locations, such as outside. 
This portable dance floor is authentic Marley. This is widely accepted as one of the best surfaces for dancing on. This is also what's used on most stages and in many studios. This means that you are practicing your turns, pointe work, and tap dancing on a similar surface that you might perform on. 
This is a relatively affordable solution. Due to its size, it isn't very expensive compared to its larger counterparts. This means that if you are on a budget, this could be a really good option. 
Cons
This portable dance floor is small. This means that you can't perform any large movements on it or anything that travels. This can be extremely limiting if you have no other flooring to dance on. 
Due to its small size, this floor must be used with caution and may not be suitable for beginner or younger dancers. Landing or sliding onto the edge of the floor could be very dangerous leading to twisted ankles and other injuries. 
4. Best for Tap Dancing: Dot2Dance Tap Board
Dot2Dance also makes a tap board that is similar to the portable dance floor in size and shape. However, this dance floor is made of material that is more conducive to a good tap sound. Tap boards are essential for tap dancers to be able to dance at home, as you can't tap on carpet and tap shoes can damage hardwood floors. 
This board is sprung and has a pleasant musicality to it, which is a huge benefit for tap dancers. It is also highly portable and comes with a carrying case, much like its portable dance floor counterpart. 
Pros
This tap board is easily portable so you can tap dance anywhere. It even comes with a convenient carrying case. It is lightweight, so it doesn't take too much effort to carry from location to location. 
The Dot2Dance tap board has a nice sound to it so that tapping on it is a pleasant musical experience. 
This tap board is sprung. This means that it absorbs the impact, protecting your knees and other joints. It makes for a more pleasant tapping experience and is better for your body in the long run. 
Cons
This dance floor is made for tap dancing, so other styles of dance don't work quite as well on this board. 
This tap board is relatively small. This means that any large movements or traveling choreography wouldn't be able to be done on this board. 
5. Most Durable: Big Floors Interlocking Modular Dance Floor
This Big Floors interlocking dance floor consists of many smaller dance floor tiles and edge pieces to smooth out the corners. It is portable, safe, waterproof, and comes in many different sizes to fit your space's needs.
While this removes the customization options that might come with other brands of interlocking dance tiles, the edge pieces decrease the possibility of injury that comes along with the edges of many home dance floors. 
Pros
This dance floor is waterproof and highly durable so it will last for years. You won't have to worry about replacing it. 
Due to the edge pieces, this floor is much safer than other dance floor tiles on the market. This can be a huge plus, especially for beginners or younger dancers. 
This floor comes apart into small pieces that are easily portable. This means that you can move it as needed. The floor tiles are lightweight as well. 
This floor works with many dance styles. 
Cons
This floor is made out of plastic, which isn't going to feel like a typical dance studio or stage floor. While it does work for dancing, it may not work for your specific needs. 
You have to have the space to fit a square floor in. There aren't a lot of options for shapes, so odd shaped rooms might not work with this flooring option. 
What to Consider When Choosing a Home Dance Floor
There are a couple things to consider when choosing a dance floor for home use. Depending on how you are using it and what your space is like, different options could be better for you. 
One of the main considerations is dance style. Pointe work is best on a Marley floor, whether it is a roll, like the IncStores, or a small dance floor such as the Dot2Dance. If you are a tap dancer, then consider getting a dedicated tap board, such as the Dot2Dance. Any other style can use most of the options with ease. 
Another factor is space. If your space is an odd shape or size, then consider getting dance floor tiles, such as the IncStores option. These can be laid out in any shape you need. Larger spaces can facilitate an interlocking modular floor, like the Big Floors option. 
Lastly, portability is another huge consideration. Marley floor rolls are going to be harder to move than a small round Dot2Dance floor or tap board. Choosing the option that has the best combination of portability and size for you is key. 
Safety Considerations with Home Dance Floors
Younger and/or beginner dancers may not be as keenly aware of their surroundings or how close they are to the edge of a small dance floor. For this reason, choosing to use a small number of dance tiles or a small round floor such as a tap board or turn board can be dangerous especially without someone monitoring. 
Larger floors, roll-up Marley, and tiles with edge pieces tend to be safer for these reasons. If you are concerned about the safety of your young dancer, consider getting one of those options instead of a small, sharp edge dance floor. 
Another safety consideration is jumping. If you plan on jumping on your dance floor, then you need to consider what the floor is made out of as well as the floor underneath, if applicable. For example, laying a rolled Marley down on concrete wouldn't be particularly safe for your joints. 
Jumping on a really hard surface is generally not recommended. If you plan on jumping, either lay rolled Marley on a safe floor, or use a sprung floor option such as a tap board. 
Slickness is another important safety concern. A floor that is too sticky or too slippery could potentially be dangerous for the dancer. Marley floors are made to be the perfect texture for dancing, so that is always going to be the safest option in this conversation. 
Budget Considerations for Dance Floors
Dance floors can be very expensive. While searching around for the best deal is never a bad thing, be careful that you are still getting a high quality floor. Low quality floors could pose a safety risk by being too hard or too slippery. 
If you are on a tight budget, consider getting a smaller high quality dance floor. Even if it is only big enough to turn on, at least you know you are being safe and can still practice those things that you can't do on carpet. 
The Bottom Line
Overall, the best option is the roll-up Marley dance floor. This floor is scalable, safe when used on a non-concrete floor, and versatile in order to accommodate multiple dance styles. It is also the same material used for stages and studios, so that's an added benefit. 
For tap dancers, going with a tap board is by far the best option. The sound is unbeatable and it is sprung to protect your knees and other joints. It is also portable and affordable due to its size. 
For difficult and/or small spaces, a portable round dance floor is the best way to go. These can be used on almost any surface and are easy to move around. They also provide a good solution for many different styles of dance. 
With these considerations, you should be able to choose the best dance floor for you and your situation. No dance floor is perfect for every situation and none of them can replace a studio. However, choosing the best one for you can greatly improve your dancing and allow you to practice at home and a variety of other locations.