When planning to take ballet lessons, it's helpful to know what you might expect to be charged. Ultimately, the amount of money you'll pay for ballet lessons depends on your reasons for taking lessons in the first place. 
On average, a ballet class costs between $15 – $60 for tuition, depending on the level. If you are taking ballet lessons recreationally, then you will pay a small fee once or on a frequent occasion. If you're taking up ballet as a proper hobby, you can expect to pay more. Those training to become professional ballet dancers can expect higher tuition rates, although there are exceptions.
Your fees can get expensive but there are a lot of variables involved. In this post we'll discuss rates along with additional expenses you might be responsible to pay when taking ballet lessons.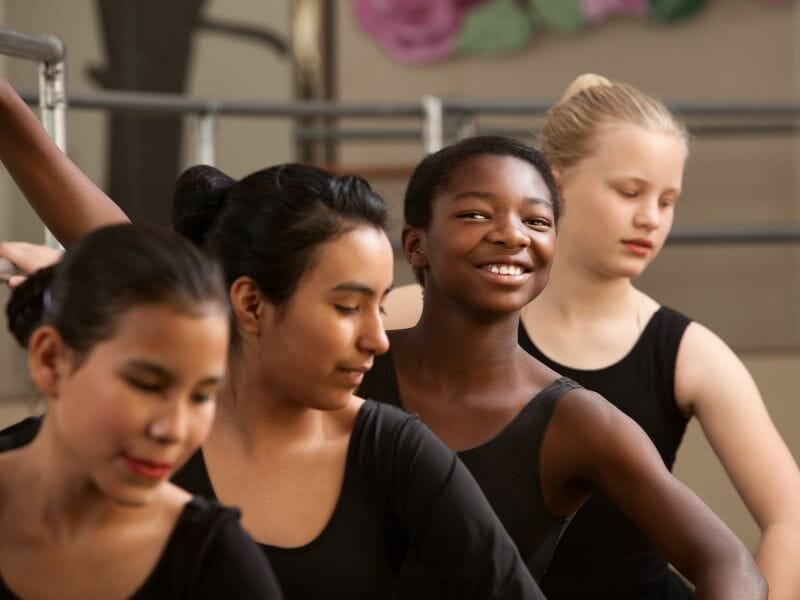 Ballet Lessons: Tuition Expectations
There are multiple levels of entry into ballet. Factors like age, past experience, and your personal dance goals help determine which level might work best for you.
Casual Ballet Lessons
Ballet is a wonderful way to remain active and stay in shape. It's also a great way to socialize and form healthy relationships with people from your community. Ballet lessons might also be a fun activity to engage in from time to time. Some people take ballet lessons for these and other reasons that likely won't lead to professional dancing.
Open classes are often the route taken by these individuals. Local dance studios, larger dance institutions, park districts and community centers offer open classes. An open class is one that you can simply walk into for a single session and often even a set of sessions. 
You might see them listed as beginner, intermediate, or advanced level. And beyond a single class, you might find that the studio offers a multiple class pass, like 10 classes for a discounted price. There might also be seasonal options and unlimited passes that allow you to take as many ballet lessons as you want within a specific time frame.
Previous training is typically not required, but there might be a minimum age requirement to take open classes. Tuition and fees for these classes will vary widely because it depends on your location, class length, and possibly the expertise of the ballet instructor. 
Larger Dance Schools Ballet Lessons
For example at the Joffrey Ballet Chicago, open class prices range from $15 to $160 USD. The $15 USD price is for professional dancers who want to drop in on a class for the practice. Students and people older than 55 years, pay $17 USD, all others would pay $20 USD for one drop-in class.
There's also an option to take ten classes per semester. Professional dancers would pay $140 for this pass. Students and seniors can expect to pay $160 USD, and everyone else would be charged $190 for ten classes.
In contrast, at the American Ballet Theatre, an open ballet class would cost an adult $15 USD. They offer 90-minute classes for beginners, those on intermediate level, and there's an intermediate/advanced level class as well. Professional dancers can drop in to take a 45-minute class at the cost of $10 USD. It doesn't appear that they offer multiple class passes.
Joffrey Ballet School in New York City charges $20 for open, drop-in classes as does The Washington Ballet located in DC.
Over on the West Coast, you can take open ballet classes at Pacific Northwest Ballet in a few different groupings.  You'd be charged $16 USD for a single class, $75 USD for five, $140 USD for ten classes, and $270 USD for twenty classes. Class duration seems to be the longest here, at one hour and thirty minutes each.
Local Organizations Ballet Lessons
At smaller organizations, you might expect to pay for multiple classes at once instead of single drop-in classes. For instance, at Old Town School non-members are charged $63 USD for three classes; members are charged a reduced rate of $56 USD. That equals $21 or $19 USD per class, which is similar to individual class prices at the larger studios.
Park District and Community Center prices are potentially much lower but ballet classes are typically only offered to children. These classes are typically seasonal.
In this example, classes are offered in the summer and fall. During the summer, students would meet at least once a week for six weeks and be charged $34 USD.
In the fall, the fee increases to $50 for those who live within the district and $56 USD for those who live in the surrounding areas. Classes are offered for about 11 weeks during the fall sessions. 
So in terms of open ballet lessons, you can pretty much pay as little or as much as you want based on the number of classes you choose to take. Children's classes are often less expensive than adult classes. 
Ballet Lessons as a Hobby
If you are taking up ballet as a hobby, then you'd likely be taking classes more often and on a consistent basis instead of the occasional drop-in.
Ballet lessons can be taken regularly by people of any age. Children, teens, or adults can regularly take up this interesting and graceful activity.
You can expect for there to be multiple age groups and experience levels offered. Tuition costs vary widely.
At one particular dance and music academy you can expect to pay $600 to take 10 ballet lessons a week for six weeks. Five classes a week costs close to $500 USD, and there are options to take fewer or more than ten classes per week. 
Depending on dance level, annual tuition at a dance academy in Denver, Colorado ranges from  $600 to $3,800 USD per year, meeting once per week.
As you can see, taking on ballet as a hobby can be more expensive than the casual approach to taking ballet lessons but not as expensive as the next category.
Pre-Professional Ballet Lessons
Since there are so many additional factors to consider, like the age when a person begins to take ballet lessons, number of years they continue to train, when and where they take lessons and so forth, we'll step back and give you a broad number to consider when taking ballet lessons in order to become a professional dancer.
When thinking about the number of years a person trains to become a professional ballet dancer, it's understandable that the total cost is estimated to be well over $100,000 USD.
This is based on the idea that in many cases, a person begins to take lessons around age three, and then continues until they begin dancing professionally around age eighteen. So to train for 15 years, parents can expect to pay over $100,000 for tuition, fees, apparel, ballet shoes, and other related expenses.
For instance, Oklahoma City Ballet has three main divisions that can place a child on track towards becoming a professional dancer. They are the Children's Division (ages 3-8), the Preparatory Division (ages 8-12), and their evening Pre-Professional Division (ages 11-18).
Tuition in the Children's Division costs between $80 – $95 USD per month. Those costs increase to $215 to $300 per month in the Preparatory Division. Pre-Professional ballet lessons range between $375 and $400 USD per month.
So annual costs can range between approximately $800 to $4000 depending on the division and number of months ballet lessons are offered. I calculated ten months considering holidays and off seasons. 
These are only examples, of course, but I hope they give you an idea of what you can expect to pay for classes when training to become a professional dancer when beginning classes in childhood.
Ballet Lessons: Additional Expenses to Consider
Tuition is only one part of the equation, though. In addition to costs per class, or seasonal and annual tuition fees, there are added expenses involved with taking ballet lessons.
Some costs to consider are:
Registration fees
Ballet attire
Ballet shoes or ballet socks
In some cases, there might be recital fees, recital costumes to purchase and even prop fees to help with set design and related expenses.
I should note that some registration fees include at least one leotard. So it might help to inquire about what's included with tuition costs.
Some academies list suggested attire and footwear, and others encourage you to come to class wearing what makes you most comfortable. 
Since ballet places emphasis on creating lines with the body, usually, you're asked to wear clothes that hug your body so that the instructor can properly direct you. For some this might mean leotards, and for others, they may simply prefer to wear leggings and a tank top. Check with your dance school to be certain.
Footwear suggestions might vary because dance flooring can vary slightly from one ballet studio to the next. Some floors help you perform better when wearing ballet flats. Then there's other flooring that is designed for shoes or socks. 
Many schools offer sibling discounts. For example, if you plan to enroll two children into dance class, tuition costs won't be exactly twice as much as usual. So be sure to inquire if this applies to your situation.
At the Royal Ballet School in London, serious ballet students are expected to live and attend academic and dance lessons at the school. In this case, combined tuition and boarding fees can total over £30,000 pounds per academic year. So just know that some pre-professional programs are a fully immersive experience.
Lastly, if you plan to set up a dance studio for at-home ballet practice, you'll want to factor in those expenses as well. Typical supplies include dance flooring, a barre, and dance studio mirrors.
Overall, ballet lessons can get really expensive. But don't let that deter you from taking the occasional drop-in class if ballet is an activity that you enjoy.
Read more: