If you're in a hurry and just want to know which socks would be the best for dance, then I would recommend,Tucketts Allegro grip socks, as your best choice. 
Similar to outdoor sports like soccer and tennis, dancers perform best when they have the right equipment. This is where technical socks that are designed specifically for dancers come into play. 
The best dance socks help keep your feet stable, remain securely on your feet in spite of movement, and prevent slips. Breathable material like cotton is a top choice for dancers who wear socks while practicing or performing.
Dance socks can be lightweight and visually appealing, but they also protect dancers' feet and aid in recovery. In this post, I'll share the best ones for you to consider.
In this post, I will review the following dance socks: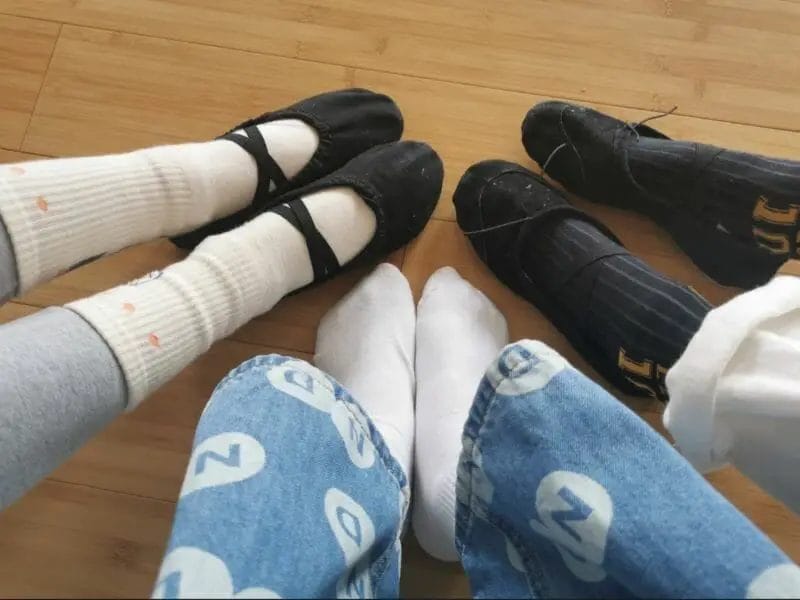 The Best Socks for Dancing
The first step in choosing the best dance socks is to select socks that are designed specifically for your dance genre.
Some sock styles simply won't work well across all types of dance.
1. Best Toeless Dance Socks: Tucketts Allegro Grip Socks
Tucketts is a woman-owned business that operates sweatshop-free and has low carbon impact. Their manufacturing process conserves water and doesn't rely on trees for packaging materials.
Their Allegro toeless, non-slip grip socks are ideal for ballet but can be used in contemporary dance as well. 
This is a lightweight knit fabric blend of:
70% recycled cotton
29% nylon
1% spandex
They're available in multiple color combinations to compliment your dance wear or costume. For those who dislike individual toe sleeves, this design gives your toes room to spread out and breathe.
Exposed toes help maintain your foot and brain connection as you dance. This feature also helps you feel more engaged with every step you make. This design also leaves an open space at the top of your foot in order to promote air flow. In addition to the use of moisture wicking fabric, these combined features prevent sweaty buildup that can potentially cause slippery falls.
Bottom grips are placed at the heel and extent to the ball of your foot. These sticky grips help you maintain balance when turning and jumping. The ankle strap and stitched heel work together to provide a contoured fit that will keep your sock in place throughout your workout or performance. 
Although they can endure multiple washes on a gentle cycle, it's best to hand wash, and then air dry these socks.
Pros
Toeless comfort
Full coverage bottom grips
Stitched heel for a snug fit
Barely notice you have them on
Moisture wicking fabric
Cons
Some may find the toe banding uncomfortable
This design may not fit all feet well
2. Best Non-Slip Barre Dance Socks: Tavi Noir Grip Sock
Tavi Noir socks were created by dance instructors who know exactly what you need when looking for the best performing dance socks. About as important as function is feel. When a dance sock hugs your feet and doesn't budge throughout barre practice, it feels like the perfect fit.
Machine wash these socks turned inside out, but it's best to allow them to line dry. You can expect them to hold their shape even after multiple washes.
They're made with: 
57% polyester
39% organic cotton
3% elastane
1% elastodiene 
This combination of soft, comfortable materials offers a good stretch, secure fit, breathability, and slip prevention. 
Grips extend the full length of the sock from heel to toe. This helps you hold your pose or position for an extended period of time without sliding on the floor. When doing turns and spins, you can confidently land without the fear of falling.
Arch compression also offers support throughout movements. After you've been dancing for hours, wearing socks provides more support than when dancing barefoot.
Pros
Breathable cotton blend fabric
Arch support
Fitted heel prevents twisting
Full coverage grip base prevents slips
Cons
Not for those who dislike bottom grips
Not for those who prefer toe exposure
3. Best Dance Socks for Men: Body Wrappers Comfort Sock
Professional male dancers prefer this brand. This company specializes in manufacturing dancewear and dance shoes.
Made of lycra, Body Wrappers comfort socks are lightweight and stay in place as you dance. Fully ribbed with soft banding at the top, these socks hug your feet and won't interfere with steps. They socks won't stretch out of shape after a few wears.
Available in black, nude, and white, these socks pair well with costumes and dance uniforms. Body Wrappers socks for men can also be worn during dance class.
Regardless of where they're worn, these socks are designed to provide comfort that you may not experience when dancing barefoot.
It should be noted that there are no grips on the sole of this sock. If you engage in high impact dance with lots of jumping and hard landings, this may not be the sock for you. 
Pros
Very comfortable
Won't slide down the leg
Hold their shape after prolonged use
Cons
Toe seam might be uncomfortable for some types of dance
Not ideal for ballet
4. Most Lightweight Dance Sock: Natalie Dancewear Ankle Sock
Available in black, as well as, light and medium nude tones, these socks will match most dance shoes. 
Made of polyamide (97%) and elastane (3%), these socks are lightweight enough to wear with shoes. They're ribbed from toe to ankle and have a wider band at top to help keep the socks in place. Ribbing also makes for a contoured fit. Stitching is on top of the toe, which prevents discomfort.
If you're a jazz, tap, or ballroom dancer, you may find these socks comfortable and not too thick. They'll also wick away moisture, which can prevent your shoes from becoming smelly. When worn with shoes, these socks prevent the formation of blisters and calluses. You can expect them to stay in place and not move around in your shoe as you're dancing.
This ankle sock offers light compression, but there are no grips on the sole of this sock. Some dancers prefer not to have grips so that they can more freely execute turns. But know that on some floors, you may slide around more than desired while wearing these socks. It's just a matter of preference.
Pros
Barely noticeable on your foot
Fits well in shoes
Stays in place
Comfortable fit
Allows for turns
Cons
Too slippery on some surfaces
Basic color offerings
5. Best Smooth Floor Dance Socks: Over Sneaker Dance Socks by Haysandy
There are times when you may want to dance with your tennis shoes on. But if you've ever tried it, I'm pretty sure you noticed all the hard stops and jerking. Wearing sneakers on hardwood or another smooth surface can cause a lot of pain by the end of the night. 
That's where these over sneaker socks come in handy. They help you glide, twist, and turn on the dance floor all while maintaining the support of your sneakers. Smooth floor dance socks work well for line dancing, Latin dance, hip hop, and more.
Eight sets are included and there are two color combination options. The fact that these socks are unisex is especially convenient if you engage in couples dancing. You can both use these socks and still have plenty left over to use as replacements.
You may have to tug them a bit to pull them over your shoes, but they're stretchy enough not to require too much effort. They can fit over almost any shoe type.
Another thing that I like about this set of sneaker socks is that they're not branded. Other options for this kind of sock have a bright white brand stamp that you may not want to advertise when dancing. These have a clean aesthetic that won't create a distraction. You and any audience members can focus on your dance steps instead of the white marks on your shoes. 
Pros
Unisex socks
No garrish branding
Economical
Reduces stress of physical impact
Cons
Depending on shoe structure, there might be sizing challenges
Durability varies with use
Are Dance Socks Necessary?
Dance socks are a fairly new phenomenon. They still aren't entirely common in comparison to other dance equipment and accessories, but more and more dancers are wearing them.
In an interview with Dance Business Weekly, former dancers and owners of Apolla performancewear explain their reasoning behind producing dance socks.
They first invented "Shocks" in 2014. Shocks offer support similar to a shoe but with the comfort of a sock. Dancers had been experiencing more and more foot and leg injuries while learning grueling routines. 
Their aim was to reduce inflammation and through compression, prevent foot injuries. With the support of science, they knew that their Shocks could help protect dancers' muscles and ligaments. Apolla is now one of the top five dance sock companies.
One of the founders is herself a kinesiologist, but there are other scientists who agree that wearing Shocks or similar forms of dance socks can benefit dancers.
Support from the Movement Science Community
In a podcast interview, Dr. Jeff Russell shared findings from a small research project comparing the use of Shocks versus dancing barefoot. Dr. Russell provides clinical care to performing artists and has also earned a PhD in Dance Medicine.
Through his research study, he found that wearing compression dance socks offered protection and more support than dancing barefoot. He had contemporary dancers perform a short routine while wearing Apolla socks that were fitted with sensors. The sensors measured the impact of movement on the dancer's feet. Results indicated that there were benefits to wearing them. While wearing the socks, there was less force generated through to the foot.
Padding supported dancers' heels and balls of their feet. Elastic surrounding the arch of the foot provided additional support to the foot. 
With such promising results from a short routine, Dr. Russell thinks that it's likely that over time, wearing the socks can be beneficial because of the long hours dancers spend on their feet. 
He also pointed out that dance socks are only one factor contributing to dancers' performance and overall health. He stated that while they can help reduce the physical demands that dancing puts on their body, it's important to focus on holistic bodycare. Dancers can't simply rely on dance socks for body care. They also have to eat well, stretch often, allow for breaks, and so forth.
But overall, padded socks do offer some protection and support, especially when used over an extended period of time.
Benefits of Dance Socks
In the same way that dancers have different preferences regarding bodywear, they also have different needs regarding footwear. 
Since Apolla is one of the more popular dance performance gear brands, there's simply more information about the company and how and why dancers enjoy using their products. Dancer and Youtuber, Gaylyn Lareese reviewed Apolla's calf length sock as well as their Joule shock, which has openings for the toes and heels.
But what I found really helpful was her suggestions about who would most benefit from using dance socks. Here's an overview of her take on it along with additional points that I've learned along the way.
Compression
This feature is beneficial for dancers who experience ankle rolling and those with past ankle injuries. Compression reduces inflammation, which can help in two ways. While dancing, you might experience less pain. Secondly, your ankles might feel more supported while wearing these socks during your recovery period. 
Another point is that your arches can get achy when dancing barefoot, so the compression support helps prevent the achiness. 
Less Toe Crowding
Some dancers need or want arch support but prefer an open toe feature. For those dancers there are some dance socks that have top openings. There are also dance socks that have toe and heel openings. 
But toe openings make spreading possible. They don't restrict the toes in the way that some compression dance socks are designed to do. When your toes are free, you may feel more engaged with your dance steps. This type of sock also more closely mimics dancing barfoot. But it has the added benefit of arch support.
Gaylyn raised the point that individuals with a different foot shape might prefer this open toe design. In her example, she mentioned people who have a longer second toe. These individuals might feel especially cramped when wearing dance socks without any cutouts. So the toeless version might create a more comfortable dance experience for them.
Support Off the Dance Floor
An extension of the arch support claim is that it may also help to wear dance socks throughout the day even when you aren't dancing. 
She mentions that especially if you have lower arches, these socks can prevent your arch from falling when there are long periods between dance practice.
High Heel Performances
An aesthetic and physical benefit to wearing dance socks without a heel or toe is that you can secretly wear them with high heeled shoes. 
Dancers who are new to wearing heels, or those recovering from foot injury can benefit from wearing dance socks as they perform. The socks can help you feel more supported when dancing in heels. And depending on how your shoes are made, it's unlikely that the audience will even notice that you are wearing any socks. This way you can support your body and give your audience a polished performance at the same time. 
Fitted Design
A lot of these socks are lightweight and fitted. This design prevents bunching when you wear these socks with shoes. 
A fitted design also keeps the socks in place as you perform. More often than not, dance socks will remain on your feet throughout your practice or performance.
General Foot Support
Compression prevents swelling. Even when you aren't dancing, these socks might support your feet throughout the day. 
Conclusion
The best dance socks are the ones that fit your feet well and are appropriate for the type of dancing that you do.
Take your time to test out different ones in order to find the best style and fit for you. If you have more than one dance discipline, I would suggest, Tucketts Allegro grip socks. They can be used for ballet and various forms of contemporary dance.
If you dislike grips, try Natalie Dancewear's ankle sock. You must be careful with this one, though. Lack of grips means you may slip and slide across the floor. 
Whichever brand you choose, wearing dance socks could contribute to the longevity of your dance career over time, but you have to take care of yourself in every way.