In a hurry?  Our best overall is the Capezio Rock Star Duffle Bag, a 100% polyester bag with a spacious interior, classic exterior, and made with durable material. 
As a dancer, you already know that a dance bag keeps you composed and organized during dance shows or events. 
Your typical gym bags won't separate your shoes from your clothes. That's why it's recommended to get the right dance bag designed for training and competitions. The question is, how can you make an ideal choice, especially with tons of bag brands in the market boasting high-quality product? 
I've put together the best dance bags that suit your dance training, event, or competition. 
In this arIn this article, I will be reviewing the following dance bags :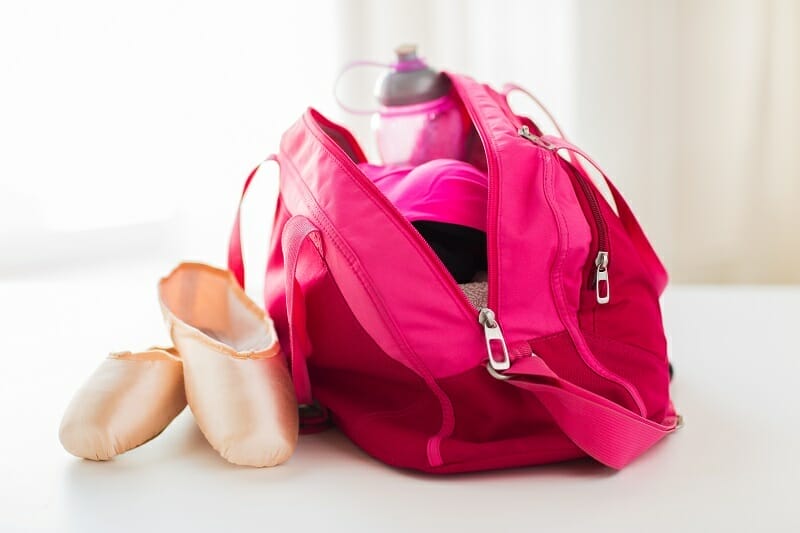 5 Best Dance Bags Reviewed
1. Capezio Rock Star Duffle Bag – Best Overall
Capezio is a household name in the dancewear industry. They make one of the best dance shoes in the market. And they don't disappoint with the Rock Star Duffle.
This 100% polyester bag features a soft patterned fabric exterior. The pouch in the interior is suitable to accommodate your shoes, clothes, and accessories.  
What's more, the padded handle, mesh pouch, and zipped shoe pocket mean you won't go wrong using this dance bag from Capezio. 
Doesn't end here: enjoy fun features like the port for headphone charging and double hooks fitting around the barre. 
However, you're not getting more for less as this dance bag is a little pricey. 
 Pros
Incredible  dance kit storage design 
Highly durable 
Classic and attractive 
 Cons 
2. Mosiso Dance Travel Bag
Not only is this bag from Mosiso suitable for sports use, but dancers can also benefit from the top-grade bag. 
Mosiso Dance travel bag is available in different patterns and colors. While the handle support easy carrying, the padded shoulder strap complements the support with comfort.  
The water-resistance is another feature to love about this duffle bag. The strong base and the resistant feature ensure that you're choosing a durable dance bag.  
Feel free to wash this bag on a machine so you can easily remove the stains as odors. 
Mosiso Dance travel bag has an incredible compartment. There's multiple packets where you can keep your keys, purses, and headphones. 
Furthermore, it has a side pocket where a pair of shoes can be stored. Here's the best part; all the compartments are made using breathable materials which are ventilated to prevent bag odors. 
Pros 
Easy to open 
Limited compartment for items storage 
Fun, classic colors and patterns 
Cons
No available compartment is designed for paper.  So this bag is not suited for someone traveling with their documents.  
3. Wikdkin Dance Bag
I'm pretty impressed with the design and appearance of the wildkin Dance bag. Although this dance bag is strictly adult, kids can also use them (no pun intended). The bag is made from durable materials, made with wear-resistant fabric, and is highly water-resistant. 
The extra padded strap is also a huge plus in this dance bag. The padded strap protects your shoulder from potential injury when you carry a heavyweight on the bag.  
The four-cornered bottom is solid and designed to prevent wear in the future. The wildkin Dance bag is designed in two unique ways: portable enough to fit into the tiniest space and large enough to accommodate your shoes, clothes, and other event gears. 
When it comes to the compartment, the interior has a shoe tunnel that separates your clean dance clothes from the others. The primary compartment is large enough to accommodate clothes, shoes, makeup, and other things you carry. The zip pocket at the front can hold your keys, phones, etc. Overall, putting price and quality on the same scale, the  
Wildkin Dance bag is a steal at a pretty competitive price. 
Pros
Made with premium quality materials 
Reasonable price 
Portable and large 
   Cons
Limited design and color choice  
4. Horizon Duffle Dance Bag
Here's another impressive unisex dance bag that is usable for both kids and adults. Thanks to its adjustable strap. 
The duffle bag also features double straps. Horizon Duffle Dance Bag has a 600 denier, durable fabric material. 
I highly recommend taking this bag to class instead of using them for competitions. Any dancer will love this bag. It can hold as much as you're ready to store. 
Durability is another feature you have to love about this bag. No need to pack or unpack with extra caution. It can easily withstand a bit of rough handling without wear or tear. That's one of the reasons why it's also suited for young folks. 
Talking of compartments, Horizon Duffle Dance Bag has over four different compartments. You can store your shoe in a zippered pocket that connects to the base of the bag. 
The bag's exterior has three pockets; you can store water bottles in one, store valuable items in another, and store small equipment in the mesh pocket. Keep in mind that there's no interior pocket, so padlock the compartments that are 'valuable' 
Pros
Made with thick, durable material 
Several spaces for dance equipment accommodation
  Cons 
No interior pocket may question the security of your valuables. 
5.  Dance Duffel Bag
If you're looking for an excellent gift for your dancer friend and family, this model is a good choice. Available in black, this dance bag allows you to customize the dancer's name on it. This is a pretty unique feature of the bag, of course. The "name customization" feature is suitable for kids, ensuring that they don't lose their bag or mix it up with their peers.  The premium quality vinyl used in the bag's print design ensures that its color lasts long and resists stains. 
The Dance duffel Bag has a strap and top-grade handle for easy carry. But keep in mind that this is not a padded strap. 
It features a large primary compartment and a mesh at the front for water bottle storage. Unlike most dance bags, this model has a very limited compartment which means you don't have much space to separate your gears. This means that casual dancers that need something to carry to the training will love this bag. 
Keep in mind that you're not getting the best in terms of weight, size, and compartment. However, you'll enjoy the durable bag made from premium quality material. 
Pros
Best suited as a present 
A suitable option for casual dancers 
Cons
Buyers Guide
This section discusses every important piece of information you need to know before buying the best dance bag. 
Factors To Consider Before Buying The Best Dance Bag
Size, style, durability, and organizational abilities are a few of the important factors you need to consider before buying a dance bag. Let's delve more into these features 
Size
First off, you must decide what size you'll love. Be sure that you're going for an option that's large enough to accommodate everything you need for your training or competition. You don't want a bag that's so big that your accessories dangle inside. Or one that's extremely heavy and strains your back or your neck when you carry it.
Your reason for use will determine the choice of size and weight of your bag. For example, if you're carrying a bag to a dance competition, you probably need stuff like makeup, shoes, outfits, or even hair accessories. Therefore, you need a bag of decent size. 
If you only need a bag for your dance class, then you don't need some big bulled size. A small-sized spacious bag for a few cloth or shoe changes is pretty fine. When it comes to weight, the golden rule of thumb is; the lighter the easier. 
 Furthermore, you need to also consider how far you may likely carry the bag. If you're going to trek to the studio, you may consider a dance bag with a backpack feature. 
Storage
Storage is also a huge factor to consider. You don't want to ignore the number of pockets or compartments in a bag, do you? Is the bag designed for the proper organization? 
Does the bag have dedicated spaces for keeping smaller items? 
Some bags feature a separate compartment for a shoe that prevents wetness or mud off the floor. Some come with compartments where dirty, wet, laundry can be stored. Because, the reality is, dancers can be darn stinky, sometimes. 
You may also want to prioritize bags with a special access pocket for cell phones or water bottles. Professional dancers may also need to go to the studio with conditioning so you must check if they can accommodate stuff like that. 
I'm pretty sure all of our top 5 products have the necessary pockets where you can organize all of your things. 
Durability
You also need to consider durability when looking for the best dance bag. You need a bag that's made with materials that are lightweight, durable, and stitched in extreme stress areas like the handles. The hardware must also be strong enough to handle the huge weight of a loaded bag. Or the everyday stress of using a bag. 
It's critical to choose a bag with a specialized compartment, especially when going to dance competitions or when traveling. As mentioned earlier, the bag should have a separate pouch that segments your clean cloth and shoes from the dirty ones. 
Furthermore, you should have a compartment for your shoes because sometimes, the soles of dance shoes may harbor some dirt or smells. 
When traveling for a dance competition, you may need to do your make-up and stuff. Keeping them organized is key to accessing them easily whenever they are needed. 
A great dance bag should have all the necessary compartments for your accessories. 
 Lots of the big names in the bag industry failed to meet up to our standard in terms of durability. While these brands make great shoes, leotards, and tights, a lot of them are not just up to par when it comes to making bags. 
All the products reviewed on our best dance bags offer top-notch durability. 
Appearance
Apart from being durable, appearance is also an important factor. All the bags we review are available in different shiny colors and patterns. They're far from the typical, old duffels. 
All of these products are up to par in terms of aesthetics. 
In addition to being highly functional, these bags offer a classic, chic look as you carry them to the studio or the gym. 
You need to keep the appearance at the top of your priority during your search. However, it all comes down to choice. 
Comfort
Of course, you want a comfortable dance bag that's easy to carry for a long time.  This means you need a bag with padded cushioning and an adjustable strap. Keep both qualities in mind. 
If you're going to a dance competition and you need to carry several clothes, a dance bag with wheels might be the best option. 
Racks on dance bags
Because they are large, you'll need them for your competition or dance shows. They feature garment racks and wheels. Plus also available in different sizes. 
Dance bags with racks are pretty much necessary for a professional dancer because they have all the space to accommodate whatever you may need. 
So, how can you identify a great one? 
Pretty easy! 
A good rack is stable, robust, and made with top-grade materials. Because, as you know, the bag may likely go through harsh conditions like lying on the ground or even having some people kick it. And it can withstand all of these conditions. To confirm its durability. 
Bottom line 
Whether you're a professional or a beginner dancer, having a dance bag keeps you organized and composed especially during dance competitions. 
Our top choice is the Capezio Rock Star Duffle Bag, a 100% polyester bag with a suitable accommodating interior, classic exterior, and made with durable material. 
All of the best dance bags reviewed offer the extreme comfort and spacious storage that you've always desired.