In a hurry? Our top pick is the Bloch dance split sole dance sneaker. It ticks the box when it comes to breathability, comfort, design, and true to size. 
With the numerous range of hip-hop shoes available in the market, making the ideal choice can feel overwhelming. 
From different color selections to brands and prices, the search doesn't get any better.
Whether it's your first time using a hip-hop shoe or you're only looking for the right shoe to improve your dancing game, you've landed at the right place.
After deep research and testing, we've put together 5 best hip-hop dance shoes.
5 Best Hip-Hop Dance Shoes Reviewed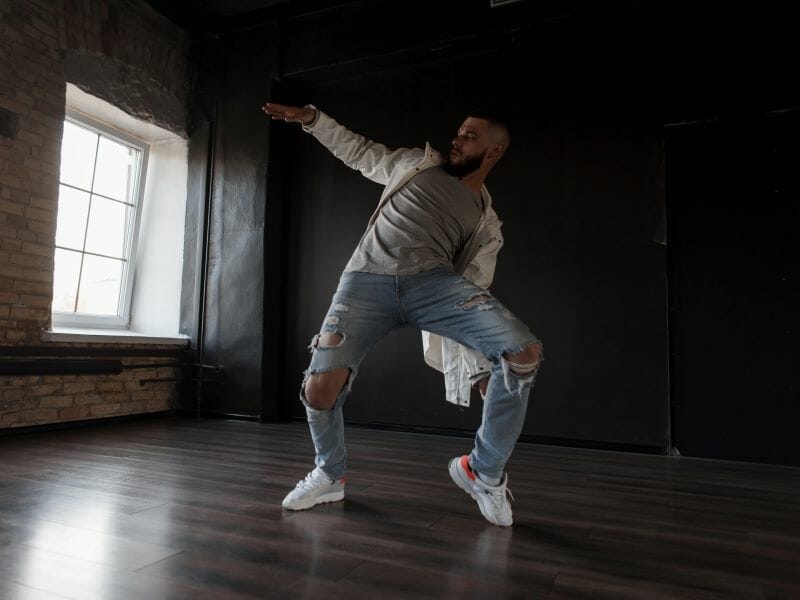 1. Bloch Dance Boost Split Sole Dance Sneaker (Best overall) 
The Bloch Dance Boost Split Sole Dance sneakers are very practical pairs of shoes for hip-hop dance. They offer breathability and comfort in addition to being incredibly sleek in design.
This style of hip-hop shoes is made with a suede and mesh upper material, featuring a Dri-Lex lining inside the shoe that doesn't wrinkle. This provides maximum ventilation for the feet. Its high arch support and tied lace fasten provide the dancer with a secure fit.
The Bloch Dance Boost Split Sole dance sneakers are made with lightweight, flexible material and feature a split, non-marking outer sole, with a heel and forefoot section to provide the dancer with maximum range of movement.
All in all these Bloch hip hop shoes are brilliant for dancers. In addition to being well manufactured by a trusted brand, this pair of Bloch shoes are very affordable, ideal for those who are on a budget but seek maximum durability and comfort in their purchase.
Pros
Comfortable and highly breathable
True to size
Affordable
Cons
Not compatible with street style shoe sizing
2. Capezio DS11 Fierce Dance Sneaker (Runner up) 
The Capezio DS11 Fierce Dance sneakers are beautiful. Made with polyurethane leather and mesh, they are stylish, and they are regarded as one of the best hip-hop dance sneakers, with good reason to be.
This pair of hip hop dance sneakers contain high arch support, noticeable in the split sole, ensuring comfort and flexibility through the feet as the dancer performs.
The spin point located in the forefoot and the patented flex point in the sole make movement easy and the outstanding grip keeps dancers' tread fabulous from beginning to end of a sequence.
The Capezio dance sneaker features a padded tongue and collar with an Achilles notch at the back of the shoe for ultimate comfort and stability of the feet. They include a removable EVA footbed that molds around your feet to provide ultimate cushioning and shock absorption upon impact.
There is a wide selection of sizes and colors to choose from in this Capezio range. Sizes run from a size 3 to a size 14. And there are not one, but six colors to choose from including solid black, black with accents of colors, and white so you are bound to find the right pair for you.
It needs to be noted that the sizing of the Capezio runs approximately one size below the standard street shoe size for women and two lower for men. They can also sometimes run a little bit narrow, depending on the width of the foot. Therefore if you do run larger in width it is ideal to go into a store to try on before making a purchase.
These dance sneakers are some of the best shoes available for hip-hop dancing. They are durable in their design, with a split sole and high arch to provide maximum support and traction, affording the dancer strong high impact movements as they dance.
The comfort and breathability these shoes provide will have you dancing for hours on end without any unnecessary sweating or friction. To top it off they are incredibly sleek and professional in their design.
If you are after some truly great shoes for dancing hip hop, you can't really go wrong with the Capezio hip hop sneakers.
Pros
Classic design
padded tongue and collar for optimal support
Split sole and high arc are durable
Excellently breathable
Cons
3. Adidas Original Superstar Sneakers (Best budget) 
The Adidas original superstar sneakers are iconic and budget friendly.
With the three stripes on the side, they've gained huge recognition. Though these are not a dance brand or loaded with all of the features of dancing shoes, the Adidas Superstars are some of the best shoes for hip hop.
Hip hop sneakers need to be comfortable and breathable, which is exactly what the Adidas Superstars provide. They are made with soft natural leather that is breathable on the feet, allowing ventilation as the performer moves. In addition, they are incredibly comfortable, with cushioning insoles that provide shock absorption upon heavy impact whilst the dancer performs.
Adidas Superstars are an affordable low-top sneaker, ideal for those who are on a budget but seek durability in their purchase.
They feature a herringbone tread in the rubber outsole of the shoes which encourages ultimate grip and traction, as the dancer produces very concise turns and spins on the floor. The rubber toe cap at the forefoot of the shoe provides extra protection reducing chances of injury.
If you are after an affordable pair of hip hop sneakers that are durable, provide ultimate comfort whilst dancing, and are stylish both on and off the dance floor, then look no further. The Adidas Superstars are some of the best shoes that will have you dancing hip hop like a star.
Pros
Reasonably priced
Soft natural leather boost breathability
Comfortable to wear
Cons
4. Pastry Youth Glam Pie Glitter High
This shoe is the crème de la crème, targeted at the younger demographic of hip hop dancers. Whether hanging out or breaking down on the dance floor, these shoes designed by Pastry are a guaranteed hit, combining high fashion with street wear.
These sleek high top dance shoes are very glittery and glamorous. They are available in four shimmery colors including red, black, silver and gold. Sizes range from a children's 10 to an adult 3.
The Pastry Youth Glam Pie Glitter high-top dance sneakers are fitted with a very breathable lining, with perforations in the forefoot region to encourage ventilation whilst dancing. This is great for deterring any sweating or friction.
They contain leather uppers, a padded tongue, a tab at the heel for easy pull-on, which is very handy for children, and they are secured with tie-up laces for support.
The footbed of these high-top sneakers are cushioned for shock absorption and comfort and feature a rubber outsole. A rubber sole encourages tread for traction whilst also remaining flexible through pointing the toes whilst dancing hip hop.
The Pastry high-top sneakers seem to run on the large side so it is recommended to purchase a size lower than street shoe size. Alternatively use thick socks, especially if the child is still growing.
The Pastry Youth Glam Pie Glitter High top dance sneakers are not recommended as the best shoes for hip hop dancing for nothing. They scream glitter, fun, and sleek on so many levels and provide the ultimate support and ease of movement when dancing hip hop.
Pros 
Combines classic fashion with street wear
Provides support to the feet 
Highly breathable lining for breathability 
Available in multiple colors 
Cons 
Some users may experience Issues with choosing the right size 
5. The Nike Free Tr8 Sneaker
The Nike Free Tr8 sneakers, though designed primarily for activities such as cross training and HIIT training, are the best shoes for dancing. These shoes are designed in a bootie style to fit the foot like a sock. 
They feature a breathable mesh upper, for ventilation in the feet as the dancer moves, tie up shoelaces, providing easy manipulation on the level of support, and additionally feature a Flywire cable in the middle section of the foot to secure an even better fit.
Shock absorption and soft cushioning is offered by the lightweight midsole and wide, flat heel of the Nike Tr8's. This assists the hip-hop dancer in being stable on their feet as they move vigorously across the floor. This is further aided by the rubber pods and flex grooves in the high wear areas of the rubber sole, providing traction and grip as the dancer performs.
The Nike T8's are available in 19 colors for women and five different colors for men.
The sizes available in these shoes range from 5-13 for women and 7.5-15 for men. These shoes are quite narrow and small in make and therefore it is recommended to go up in size when selecting a pair.
Pros
Available in multiple colors 
Bootie style design fits the foot like a socks 
Upper mesh space support breathability 
Cons 
Not the best quality but great 
Factors to Consider Before Choosing the Best Hip-Hop Dance Shoes
1. Size and Fit
The right-sized shoe is imperative for dancing hip hop. It's an important factor that you can't compromise with. You may end up paying more for the incurred injuries sustained due to the wrong sizing of footwear than it's worth.
The right size of hip hop shoe should keep your feet tightly strapped in as you are dancing hip hop. They should not have your toes scrunched up at the forefoot, nor should they be so loose that your shoe flies off your foot mid movement. A shoe that fits well will allow the dancer to move without constraint sans toes hurting or slipping.
It's imperative when buying shoes for hip hop dancing that the feet are properly measured and the shoe size charts are properly read. This is to ensure you buy the fit that is best suited to you.
2. Ankle Support
Hip hop dancing can require a lot of vigorous movement from the hip hop dancer. The amount of popping, locking, stomping and squatting incorporated into the dance routine can put an enormous strain on the dancer's joints and ligaments.
Therefore, when purchasing a pair of hip-hop dancing shoes, it's imperative for the dancer to select a pair of hip-hop shoes that contain padded ankle support, in addition to tie shoelaces for maximum shock absorption and support when landing.
3. Arch Support
With every step the dancer takes, the feet are under a great deal of pressure, therefore the hip hop shoes selected need to be able to sufficiently support the arches. Each individual requires different arch support needs, whether it be for high arches or for flat feet, just as various shoes provide different arch support solutions.
It may be a tad difficult finding the right fit of the shoe, but with some trial and error in your selection, your feet will be grateful when you do find the best shoes for hip hop that are most suited to your arches.
Hip hop dancing requires complex, dynamic choreography which requires a lot of jumping, pivoting, and twisting. It's essential to choose a pair of shoes that provide maximum shock absorption and cushioning when landing to avoid the added stress on your feet and legs. Look for EVA midsoles and cushioned footbeds when making a purchase.
4. Comfort & Cushioning
One of the most important features to pay attention to, when selecting your shoes, is the cushioning provided within the shoe. If you are doing a lot of pivoting and high impact dance movements, you want to ensure that the shoes can take the pressure off your knees, ankles, feet, and legs to avoid any injury.
The comfort that stems from the cushioning within the shoe just cannot be matched. You'll be able to dance for hours on end without getting any cramps and it's definitely worth the investment.
5. Materials & Breathability
Selecting breathable material is incredibly important when choosing your hip-hop dance shoes. Wearing shoes that don't breathe can lead to friction on the feet whilst moving and this can lead to blisters or infection due to the feet becoming hot, sweaty, and wet.
It's recommended to purchase shoes made from durable leather or additionally from materials that allow ventilation, to ensure ultimate comfort for the feet whilst dancing.
6. Flexibility
The flexibility of the shoe you purchase is important as you want maximum range in the movement for optimal performance. The most ideal hip-hop dance shoe doesn't hold your foot in a rigid position and bends with your feet as you perform.
Read more: Can Hip-Hop Dance Improve Your Fitness
Final Thoughts 
Hip hop dancing requires a lot of stomping, jumping, turning, and vigorous movements throughout a sequence.
Though there is not one particular pair of dance shoes that is specific to the genre of hip-hop dancing, there are guidelines to adhere to in order for the dancer to find the correct footwear for their feet.
Our top pick is the Bloch dance split sole dance sneaker. It fulfills every recruitment of the best shoe for hip-hop dance, including breathability, comfort, design, and being true to size.