If you're between the ages of 12 to 14 and want to start ballet, you might have some reservations. After a certain age, we tend to assume that it's too late to begin ballet dancing.
But that couldn't be further from the truth! Not only can start ballet, there might even be an advantage at starting when you're between ages 12 to 14. Older ballet students have longer attention spans, initiative, stronger bones, and the patience and dedication to develop ballet skills over time.
The only two things that are necessary to begin ballet is the desire to start and commitment to daily practice. Keep reading to learn why starting now is better than not starting at all.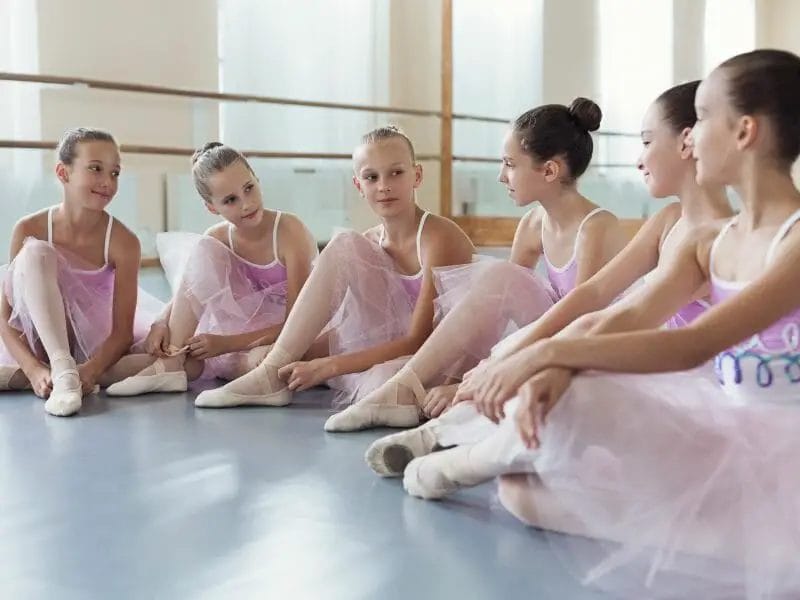 Does Beginner Ballet Training Have Age Limits?
According to Atlanta Ballet, it can take between eight and ten years of training to become a professional ballet dancer. Many students begin their training around age seven.
Truth is, you may not have had much interest in ballet when you were age seven or younger. Some children enjoy body movement classes for fun without any concern for the future. And there's nothing wrong with that. 
From age 8 to 11, you may have devoted time to different types of dance. Or, you may not have had any experience with dance at all.
Chicago native Seven Allen had no previous dance experience when she auditioned for a performance at her high school. She's now 18 years old, and she dances on pointe, even though she started ballet training around age 13 or 14.
You may feel as though you're starting late if you begin to take ballet lessons between ages 12 to 14, but that's untrue. You can still accomplish your dream of being a ballet dancer.
While adolescence and early teen years isn't the typical start time for many dancers, there really aren't any hard or fast rules.
Listening to your heart and body is what's most important. If you feel ready to dedicate the time and attention needed to fully engage ballet training, then don't let your age stop you. 
And if you still aren't convinced, Misty Copeland, principal dancer for the American Ballet Theatre, began ballet training at the age of thirteen.
Benefits to Starting Dance After Age 12
It might actually be more beneficial to start ballet between ages 12 to 14. Here are some reasons why.
Longer Attention Spans
When interviewed, some dancers state that they began taking lessons around age three or four and that might sound intimidating to someone starting later.
There are lots of dance movement classes available to toddlers, but they typically aren't learning structured movements. Toddlers are too young to concentrate or hold positions for long periods of time.
Stronger Bones
Seven to ten year olds don't immediately begin taking ballet lessons. They start with pre-ballet classes because their bones are too soft to carry out ballet moves.
These soft areas of cartilage on the edges of a child's bones, called growth plates, tend to harden beginning around age 13 for girls and 15 for boys. Stronger bones means you're better able to meet rigorous physical demands of ballet.
Holistic Health Benefits
Consistent movement can be beneficial to people in any age group. More specifically, for adolescents and young teens, there might be a host of health benefits.
Physically, dancers aged 12 to 14 can improve their balance, strength, and muscle tone. They'll also have stronger immune and cardiovascular systems while developing endurance and coordination.
Emotionally, you'll learn how to engage with others in a respectful manner and build positive self-talk. Learning how to socialize helps build teamwork, which is a transferable attribute. Emotional intelligence is just as important as any other skill.
Mentally, you'll gain focus and concentration. You'll also develop mental agility and problem-solving skills. 
Personally, you'll gain confidence and develop a stronger sense of self. You might even form friendships with your classmates that last a lifetime.
Tips for Starting Ballet at 12-14 Years Old
Specific rules do not exist, but there are some factors to keep in mind when starting ballet lessons between ages 12 and 14.
Some of these points might vary by geographical location, economic background, and physical ability. Take in what applies to you and leave the rest behind. 
Start Simple
If you are testing the waters, taking a class purely for fun might help you decide whether you want to pursue more serious ballet training.
There might be a private dance studio in your community or nearby. Sometimes local community centers offer dance classes as well. Be kind to yourself throughout the process, and then decide what to do next.
Pick a Good School/Ballet Studio
Once you've decided that ballet dance is for you, seek out a dance school that has a good reputation. If you want to train to become a professional dancer, make sure there's a strong program in place that guides you towards that goal.
This point might be most affected by geographical location. If you live in a major city, like Dallas, Chicago, Tokyo, New York, and other big cities, finding a studio is unlikely to be a problem. Even the suburban areas surrounding large cities probably have at least a few studios or ballet programs to choose from. 
It may be more difficult to find a ballet school if you live in a smaller town. If this is the case, you may want to talk to your parents about dance camps, or an alternative solution.
But in general, picking a good ballet school involves finding a good fit for you specifically. You want it to have a focused curriculum, a solid reputation, high quality instructors, and multiple training techniques within the realm of ballet.
Take some time to learn about the school and individual instructors. You may even want to talk to current and previous students to learn about their experiences at the school you'd like to attend.
Respect the Process
Another thing to look out for is the manner in which each dancer is treated. While many dance classes are a collective experience, each individual dancer is different. You'll want to take classes at a school with instructors who know that and respect the developmental process of each student.
Choose a positive atmosphere where you can develop over time. A challenging curriculum is ideal, but within limits. Your physical abilities are unique to you. You want to be challenged, not abused or disrespected.
A good dance school will constantly assess your progress to make sure you're been placed in the appropriate curriculum level. They will also communicate with you in a positive and respectful manner.
Don't Be In a Rush to Shine
Training programs that place more emphasis on performing on stage than teaching you foundational steps in one you may want to avoid if your goal is more serious training.
To fully engage the process of ballet training, practicing foundational steps and positions is most important and should be the priority. Rushing to the end result on the stage too soon could mean that you're missing out on building foundational ballet training.
Keep Your Goals in Mind
Would you like to become a professional dancer? Or are you interested in building confidence, strengthening your body, and learning how to take up space in this world?
There could be many reasons why you would like to start ballet. One reason is as good as the next. And there's nothing wrong with starting ballet as a recreational hobby. There are many different life skills you can develop in the process of learning ballet that are just as worth it.
When it comes to pre-professional ballet training, it helps to progress through your dance development while remaining at the same school. This offers you ease of progression from beginner to advanced levels, avoiding gaps in learning. You especially would want to take more time in the beginning to research multiple ballet schools.
If you want to train in ballet as a bridge to a different profession, like physical therapy, health and wellness, or something else, keep this in mind when choosing dance classes. 
Avoid comparing your list of goals with anyone else's. If you keep your personal goals in mind, that is what will help you persist with your ballet training. Focusing on someone else's goals might cause you to veer off course and not accomplish what you originally set out to achieve.
Flex Your Heart & Mind, Not Just Your Body
With goals in mind, flexibility is also key. 
You may start ballet for fun only to realize that you would like to take on more classes and train as a pre-professional dancer.
Or, you might start ballet, and then decide a different genre is a better fit. That's okay, too. Listen to yourself and be open to making changes as you learn more and grow as a human being.
Starting at ages 12 to 14, you can train to have a great future as a ballet dancer, if that's your goal.
Read more: