Choosing the best leotard can be challenging. Is it better to focus on fit, support elements, or print design? And which ones offer the most value? 
When deciding between the brands Bloch vs Capezio, you might be wondering which is better. In this post, we dig into the positives and negatives of each.
Are Bloch or Capezio Leotards Better?
Finding the best leotard for your dance performance doesn't have to be a stressful experience. You don't have to compromise fit for style. Generally speaking, at first glance Bloch leotards appear to be more sophisticated and Capezio leotards seem to be created with a bit more modern and daring design.
Both companies offer a range of colors and styles, but to be fair, I'll be comparing a basic camisole leotard offered by both companies. Let's look at how Bloch and Capezio compare.
Bloch Company Background
Based in Sydney, Australia, Bloch manufactures dance supplies, like dancewear, dance shoes, costumes and accessories. The company was founded in 1932 by Jacob Bloch. 
A shoe maker by trade, Bloch started out making custom pointe shoes. This practice gained him popularity amongst ballet dancers, and his business grew by word of mouth. Over time, he also offered tap, ballroom, jazz, and barre shoes, as well as ballet flats and dance sneakers. Among Bloch's ever expanding options, is studio shoes, gymnastics apparel and general activewear for Pilates and casual daily apparel.
Bloch dance apparel is designed for women, men, girls, and boys. The company describes the leotard as "a dancer's second skin."
Over 70% of professional dancers are women, so I'll be comparing a basic women's leotard in black. 
Bloch Dance Women's Yeshina Adjustable Strap Camisole Leotard
A classic cut, this leotard has a scoop neckline, is fully lined in the front, with a ballet cut along the leg line. Adjustable straps are wide for added comfort as you move. 
In the rear, your strap hooks can be removed in order to be worn in the camisole style or criss-crossed. That makes not only the length adjustable but also the strap design itself. This option helps you add a little of your own character to your apparel. And it's nice to have this option to add some variety to your presentation in class or on stage.
Fabric content:
The fabric is durable and opaque. You won't have to worry about your skin or underwear showing through. It's a pull-on leotard that can be machine washed. It should be dried flat.
True to size, simply take your measurements, and then use the chart to determine which option would work best for you. This leotard is available in close to a dozen colors, like navy, candy pink, sand, light pink, white, and more. 
Pros
Camisole or criss cross straps
Comfortable fit
Front lining from top to crotch area
Durable material
Cons
It's a classic design but some dancers might prefer a different cut
It might be best to hand wash instead
Capezio Company Background
Founded by another shoe maker, Capezio is an American-based company, founded by Salvatore Capezio in 1887. 
Capezio would repair shoes for stage actors in New York City before gradually customizing shoes for dancers. Similar to Bloch, Capezio's reputation grew as more and more dancers purchased his shoes and spread the word.
Currently they offer dancewear, dance shoes, and accessories for women, men, and children.
Capezio Women's Camisole Leotard with Adjustable Straps
What's different about this camisole leotard is that there's a built-in shelf bra. Darker leotard colors aren't lined but white and pink options are fully lined in the front. 
Fabric content:
90% cotton
10% Lycra spandex
Made from breathable cotton blend fabric, this leotard is softer to touch and moves with you as you dance. This fabric blend also helps explain why there isn't a lining on darker leotards. 
Also a scoop neck, the rear cut on this leotard comes to a subtle but elegant V in the back. The leg line on this pull-on leotard is considered moderate. It fits comfortably and won't ride up with movement.
Sliders on these adjustable straps are made of metal and aren't removable. Similar to the Bloch listing, this leotard can be machine washed and hung to dry.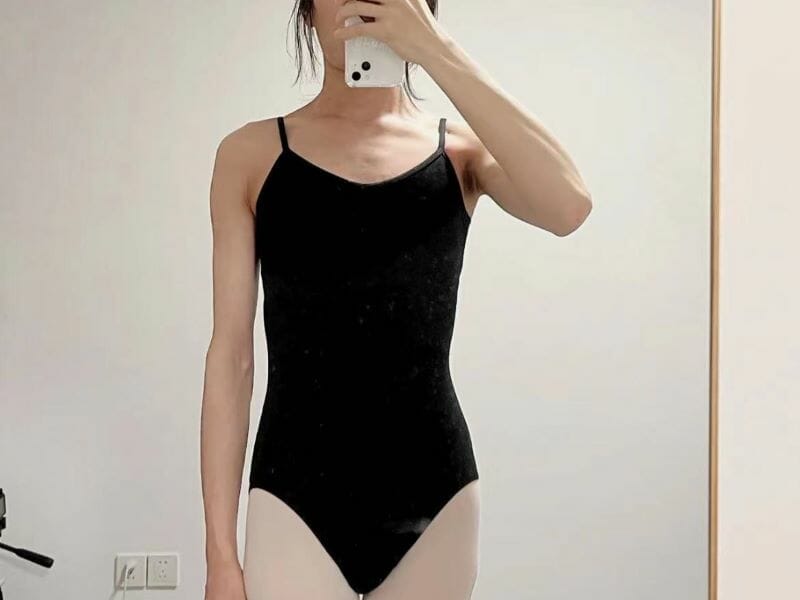 The jury is out on whether or not these leotards fit true to size. For some customers, it's a perfect fit but for others, there seems to be discrepancies.
I would pay attention to the size chart because you may have to order a size up for the most comfortable fit. With some Capezio leotard designs, you may be able to find a Tall option for women with longer torsos.
In addition to this black leotard, Capezio's camisole leotard is available in light blue, burgundy, royal blue, pink, white, lavender, and navy blue. 
Pros
Available in eight colors
Shelf bra sewn into darker colors
Comfortable material
Flattering rear cut
Cons
May not offer a good fit if you have a long torso
White and pink leotards are lined but do not have a shelf bra
Bloch vs Capezio Leotards: Face to Face
Here's a summary of what I found while comparing leotards from these two brands.
| | | |
| --- | --- | --- |
| | Bloch Women's Camisole Leotard | Capezio Women's Camisole Leotard |
| Size Options | Petit, S, M, L, XL | XS, S, M, L, XL |
| Color Options | 11 colors | 8 colors |
| Strap Options | Length and orientation adjustments | Length varies; Stationary straps |
| Leg Cut | Ballet | Moderate |
| Lining | Frontal; neck to crotch | White or pink leotards only |
| Shelf Bra | N/A | Dark colored leotards only |
| Material Content | Nylon/Spandex blend | Cotton/Lycra spandex blend |
| Fit | Mostly comfortable; true to size | Comfortable; may not be true to size |
| Price | 💲 | 💲 |
Based on this information, if you are looking for a straightforward solution, I would suggest the Bloch camisole leotard. It fits true to size, has more color options, is fully lined in the front, and you can add a little variation to the straps.
The option to cross the straps may seem minor, but it can be helpful to wear them one way at work and then switch them when you go to practice. Or, if you are washing and using the same leotard multiple times throughout the week, you can switch the strap placement in order to appear to be wearing a different leotard. 
Synthetic vs Natural Fibers
Both leotards are made of durable fabric and have some form of frontal lining. But natural and synthetic fabrics behave differently.
The Bloch leotard is made of a nylon and spandex blend, so it's 100% synthetic. This fabric blend wicks away sweat on the exterior of your leotard, but it holds the sweat that builds between your skin and the fabric.
Since nylon fabric is lightweight, you'll find that many of the leotards are typically lined, at least in the front.
One downfall to the fabric being light is that in between breaks you may feel colder if you're wearing nylon leotards because they'll feel wetter since not all your sweat will be wicked away. That combined with the air conditioning can cause you to feel cooler and maybe even catch a cold.
Cotton is a natural fiber that's more breathable, allows for air flow, and absorbs moisture. When combined with Lycra, it can also trap heat and moisture against your body. But this fabric is thicker and will absorb most of your sweat.
Some dancers prefer the feeling of one fabric type over the other. It's definitely a matter of preference.
Overall Design
The Capezio leotard has an elegant rear V design. So if having the option to cross your straps is unappealing to you, this is an equally good leotard.
Depending on your body type and preferences, keep in mind that not all of the Capezio leotards are lined in the front. All of the darker colored ones have a shelf bra sewn in, while the lighter ones do not. Instead, the lighter ones are lined from top to crotch.
Liner options can affect you if you are wearing your leotards in public for part of the day before or after going to dance rehearsal. But I should also point out that since the Capezio leotard is made of a cotton/spandex blend, it's less transparent than a nylon/spandex blend.
So just keep in mind all the ways you will be using the leotard. That and your fabric preference can help determine the extent to which you need a liner. Both brands can be used in the studio or on stage.
Capezio Leotards: Stand Out Features
Both of the leotards mentioned above are reasonably priced and are a great option for beginners and professionals alike. While both offer a range of sizes from small to extra large, Capezio takes sizing options a little further.
Solely investigating their leotards, I noticed that for some of their product offerings, there are 1x and 2x apparel items available. 
This seems to be fitting with their motto, "Dance is for everyone!" Traditionally, there's been a body size stigma in the dance world, but you don't have to be a certain size in order to get moving. 
I am not suggesting that Bloch stigmatizes women's bodies, I'm simply pointing out that if you want to take up dance and wear less accessible apparel sizes, like 1X and 2X, then you may want to explore Capezio's apparel offerings. 
Conclusion
Bloch and Capezio are well-respected dancewear manufacturers. They both make durable and fashionable leotards that can help you feel more confident as you dance.
You definitely want a frontal lining
You like the idea of altering the appearance of your adjustable straps
You'd like more color options
You want a leotard that's true to size
You prefer a shelf bra over frontal lining (for darker colors)
You are less interested in color options
You prefer the fit and feel of cotton blend fabric
You want a more elegant rear design
I don't think you can go wrong with either brand, but if nothing else, you will want to consider fabric content. Some dancers swear by cotton blends while others prefer nylon blends. It's a matter of preference.
You may have to test out both to determine how they feel against your skin, how they handle your perspiration, and how the material feels as you dance.
Bloch's camisole leotard is available in more color options. The Capezio alternative is made with heavier, absorbing fabric. Both range in size from extra small (or petit) to extra large.
Read more: