In ballet, women traditionally dance en pointe and men in flat slippers, keeping off the ends of their toes. Yet when it comes to street shoes, the ballet flat has traditionally been a women's shoe. It's the alternative to high heels when dressing up, often a more practical option when walking around a city. But are men using them as an alternative to loafers?
Guys can wear ballet flats. Until recently, it was difficult for most men to find ballet flats wide enough for their feet. But when Covid-19 hit, it became trendy for men to wear ballet flats. Thus, more men's labels, including Maison Margiela, have released ballet flats made for a man's foot.
The world's changing, and who wears what is becoming more fluid, regardless of sexuality. But wearing clothes traditionally for the other gender is an old tale, even in professional ballet. Gilbert Bolden III may be unusual for posting himself dancing en pointe, but he is far from the first. Thus, men wearing street ballet flats isn't new; it's just becoming more common.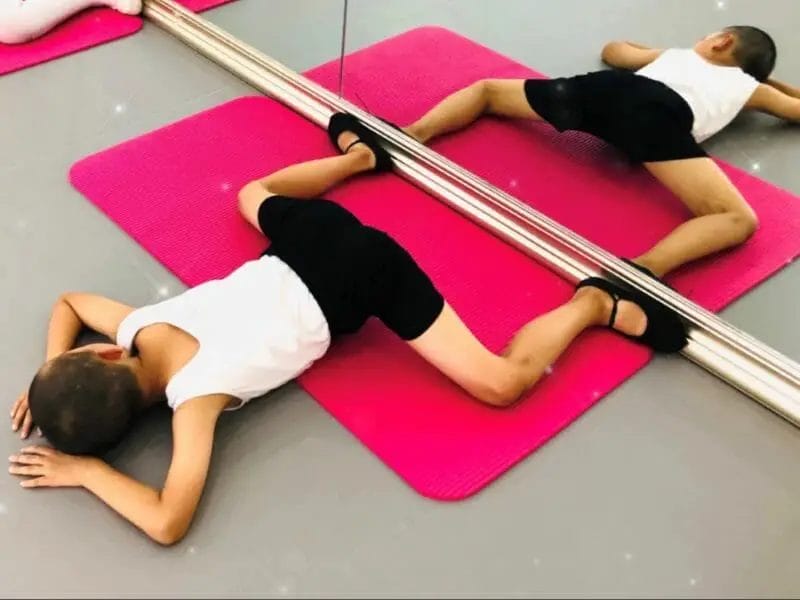 Trend: Men Wearing Ballet Flats
In 2020, fashion brands answered people's call for comfortable clothing by embracing more unisex styles. But in addition to gender-neutral sneakers, sweatshirts, hoodies, jeans, and parkas, there was the ballet flat. It was shown off on the runway as a comfortable yet stylish choice for fashion-forward men.
By the end of 2021, the ballet flat was shown off on the runway as the European men's street shoe for 2022. Like loafers, ballet flats are comfortable and easy to dress up and down. This makes them an excellent choice, especially when in a city.
This is excellent news for cis-men who enjoy ballet flats because, as studies have shown, cis-men's feet are generally broader than cis-women's. Thus, in the past, men who shopped in the women's department for flats risked buying a pair that pinched and left blisters. While there has been the occasional modern men's ballet flat, they've been rare.
Nor do all men have the means to have them custom-made, as Mikhail Baryshnikov did in the late 80s. He had a street version of his dance shoes made and was famously photographed wearing them while sporting a colorful and dapper suit.
But now, various brands are stocking them, from Neutralizer's that resemble a modified loafer to the more traditional Maison Margiela's Tabi ballerinas. Other brands putting out a men's flat are Lanvin, Dries Van Noten, Hereu, Jil Sander, Comme Des Garçons and Fendi.
However, it remains to see if the ballet flat will continue as a fashion classic as it has for women since the 1940s. However, one must admit the ballet flat is a more fashionable choice, regardless of trends, than the Croc, which many men and women have turned to for comfort. So perhaps fashion-forward men will keep the flat around long after the pandemic.
Women's Ballet Shoe Brands With Wider Fits
While the market for men's ballet flats is growing, the range of styles is still much more limited than those offered in the women's department. However, there are some brands and stores that cater to broader feet.
Clarks
Next
Nordstrom
Ralph Lauren
Saks Fifth Avenue
Tory Burch
Also, there's always the option of buying men's traditional ballet shoes and just wearing them on the street. These can easily be obtained, including on Amazon.
History Of Men's Ballet Flat
While the term "ballet flat" is modern, the concept of men and women in flats is as old as shoes. Initially, many ancient styles resembled a type of sandal. However, around 1550 BC, Egyptians had a woven shoe that resembled a canoe crossed with a ballet flat.
The Chinese had a woven shoe made from hemp that resembles a ballet flat; one such pair from the V& A collection dates back to the 68-56BC. Replicas have been seen on the terracotta soldiers from Xi'an. There are other examples of men's Chinese footwear that are similar to a ballet flat or soft Mary Jane.
In Western culture, men and women wore flats until after the medieval period, when some men began to show off the heal. However, the Renaissance did take the rounded toe and squared it off, some extending it to proportions that made it difficult to walk. But after the French Revolution, simpler lines were taken on, and a cross between a loafer and ballet flat became common.
Nor is ballet the only athletic endeavor where men wear ballet-like shoes. For example, men's artistic gymnastic shoes are flexible and comfortable flats with plenty of grips that are essentially just modified ballet shoes. Also, many track shoes look like sporty dance shoes that stepped on a hedgehog. Thus, the ballet flat has been around for men, just in disguise.
Men Dancing En Pointe
As men on the street turn to ballet flats for a more comfortable, stylish look, male dancers are extending their repertoire to en pointe. This isn't entirely new; men have been seen en pointe since the 1940s. However, in the past, men only went on pointe for comedic value, such as playing one of Cinderella's step-sisters or Bennet Gartside and The National Ballet of Canada doing so for the role of Bottom.
However, some professional men go en pointe for more serious ballet dances. For example, Roberto Vega is seen in this clip rehearsing a White Swan Variation.  Gilbert Bolden has also said that it has improved his choreographing, as "you have to get in the shoe sometimes to understand what's possible."
As her mother did, Rosine Bena-Porter teaches me on pointe for at least a year. Her mother began the practice due to being "sick of trying to correct the male dancers in partner work." But not only does the practice of putting men on pointe make them more understanding dance partners, but it also pushes their range.
Which is precisely what bringing ballet flats to the street does for men: it gives them a broader range to express themselves.
Conclusion
Guys can and do wear ballet flats. It is currently trendy, but similar style shoes have been popular with men during various periods of history. On the flip side, men in ballet are branching out beyond their flats and getting en pointe and broadening the art form. All of which shows that getting caught up in gender clothing limits expression and art.