Planning a birthday party for the dancer in your life can be a lot of work. There are so many options out there and it can be hard to choose which ones are the best for your dancer's ballet themed birthday party. 
This list will help you choose 11 birthday party decorations and supplies that are perfect for a ballet themed party.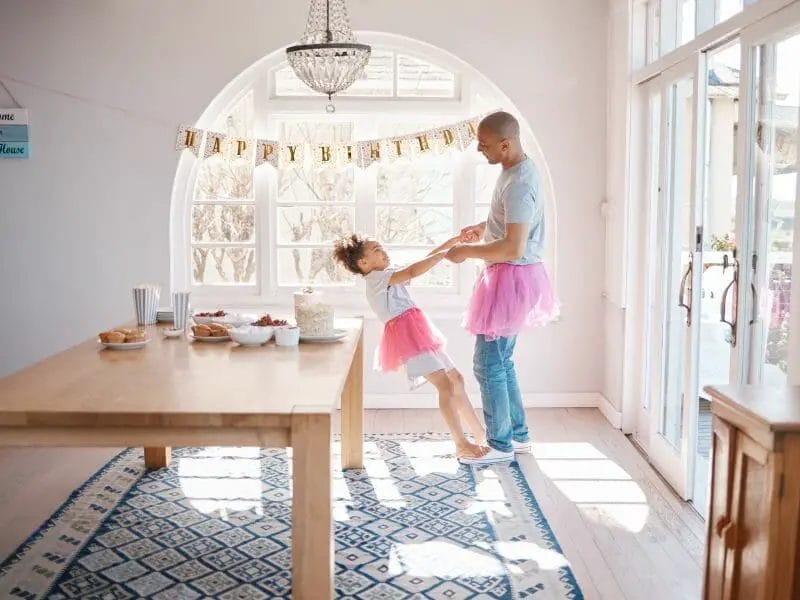 1. Qertesl Ballet Cake Topper
This ballet cake topper features a silhouette of a ballerina performing an arabesque. She is adorned in a white and gray mesh romantic tutu. This is a classic design that works for any age of dancer in your life. It is a neutral color that matches any decorating scheme.
This topper is made out of food grade materials that make it safe for your dessert. It is easily inserted due to its wooden stick. This topper is 7.3 inches tall and over 6 inches wide, making it big enough for a larger cake. 
This ballerina topper is also at a great price point of under $10. It will make the dancer in your life smile when they see it. 
Pros:
High quality mesh skirt
Elegant and classy – this is a timeless design
Works for many ages of dancers
Food grade materials
Great price point
Easy to insert into any birthday dessert
Big enough for a larger cake
Cons:
Not double-sided, so can only be viewed from the front
May be too big for smaller desserts
2. Caspari Ballet Tutus Die-Cut Birthday Candles
Every birthday party needs some candles to go in the dessert. While plain candles can get the job done, these ballet candles take your dancer's party to the next level. Featuring 6 different designs, you are sure to find some that your dancer loves. 
These designs feature tutus and pointe shoes of various colors and patterns. They are fun for many ages and color coordinate with each other. They are each 4.5 inches long and will spruce up any birthday dessert that you put them in. 
While they are a bit on the pricier side, they do feature high-quality design and detailed art. They feature a variety of simple pink, green, black, and white colors, and some floral elements. 
Pros:
Their size and various designs make them very versatile to fit any of your needs
They can work for any dessert, including small cupcakes up to larger cakes
They feature 6 different designs including tutus and pointe shoes
They work for a variety of ages
Intricate, high-quality design. 
Cons:
They are a bit on the pricier side
They have very distinct pink colors so they may not match your other decorations
3. LaVenty 33 Piece Ballerina Birthday Party Set
Every birthday party needs some plates, napkins, and cups, along with banners and other fun coordinating decorations. This 33 piece party set is perfect for the dancer in your life.
This set includes two sizes of plates, cups, napkins, a 'Happy Birthday' banner, and a fun castle decoration. They all match and feature different ballet elements such as tutus, pointe shoes, roses, and a wand. It even features a swan from Swan Lake. 
This is a small set, so it doesn't come with some of the other elements you may need like balloons, a centerpiece, cake decoration, or other decorations you may need. However, that also means that it is at a better price point. 
Pros:
Multiple plate sizes
Features the swan from Swan Lake
Includes a 'Happy Birthday' banner
Fun design for a younger dancer
Good price point at under $20
Cons:
Doesn't come with a centerpiece or balloons
Doesn't work for older dancers
A small set that may not work for larger groups
4. Betallic 40″ Ballet Slippers Foil Balloon
Balloons are another important part of planning a birthday party. There are many balloon options that could look great with your ballet theme, but this large ballet slipper balloon will be an eye-catcher at your party. 
This balloon is 40 inches and is shaped like a pair of ballet slippers with a bow on top. It has multiple pink colors and is sure to draw attention. It has a slightly metallic surface which will catch light and sparkle. 
It includes a self-sealing valve for easy filling and is made out of mylar / foil, which will make it more sturdy and firm. 
Pros:
40 inches in size
Includes a self-sealing valve
High-quality mylar / foil material
Under $10
Cons:
Will need to filled up either at home or at a local party shop
May not match other decor
5. 30 Piece Ballet Themed Rubber Bracelets
This pack of rubber bracelets include a large quantity of high quality bracelets at a low price point. Every female dancer would be impressed with the design and color of these bracelets. They are perfect party favors for the ballet themed birthday party that you are planning. 
There are 3 different designs in this pack, with differing patterns on the front and back of each bracelet. They are all different colors including white, light pink, and a darker pink. They are 8 inches in circumference, which will fit most wrists.
These rubber bracelets are made of a high quality silicone and will not easily fade or break. This means that all of the guests at the party will be able to wear these for years to come. 
Pros:
10 bracelets of each design
Variety of fun colors
3 different designs
High-quality silicone
Will not fade or break easily
Fits most wrist sizes
Good price point
Cons:
Many studios don't allow dancers to wear bracelets during class
Older dancers may not enjoy them as much as younger ones
6. Ballet Bunny Gift Wrapping Paper
Whether you are attending or throwing a birthday party for a dancer, you will need some good quality wrapping paper with a ballet dancing theme. This ballet bunny wrapping paper is super cute and is sure to delight the dancer in your life. 
This wrapping paper features adorable gray and white bunnies with pink tutus and a bow on their right ear. There are also leaves scattered about to add a botanical touch. The colors are pastel and simple, making it easier to match. 
This paper has vibrant colors printed on thick premium 70 pound glossy paper. It is shipped in 3 30×20 inch flat sheets. 
Pros:
Cute design
Matches other decorations well
Glossy paper with vibrant pastel colors
High quality
Cons:
Folded flat when shipped, so may cause some difficulty when wrapping due to creases
May not have cutting guidelines on the back
Not suitable for every dancer's tastes
7. Creative Converting Twinkle Toes Paper Centerpiece
Birthday parties call for a great centerpiece for your table. This pink ballerina paper centerpiece is a cost effective way to go that will match your theme perfectly. This centerpiece has a dancer in the center surrounded by pointe shoes and standing on top of a festive paper riser. It is a classic centerpiece design that has stood the test of time. 
This centerpiece features a variety of shades of pink, so it is bound to match your other decor. It stands 12 inches tall and is just under 12 inches wide at the base. This makes it a great size for many different tables. You could even buy multiples to put on various tables throughout your house or venue. 
Pros:
Classic & timeless centerpiece design
Festive, but still on theme
Variety of pinks to match other decorations
Versatile size
Great price point
Cons:
Could be a on the small side for a large table
Made of paper, so easily bent or ruined in some way
8. Pink Tulle Table Skirt
Lots of decorations and wrapped gifts can clutter up a table quickly, but you still want the table to look festive and on theme. This tulle table skirt is the perfect option to spruce up your table without cluttering it up too much. 
This features the same material that is used in tutus and other ballet skirts. The baby pink color will match your other ballet themed decor and gift wrapping and just add a hint of ballet to your table. 
There are 3 size options so you are bound to find one to fit your table. It can also be washed easily: simply wash it in cold water and hang it to dry. It uses velcro to attach to the table so it won't ruin your table during removal.
You will need a regular tablecloth to pair with this table skirt as well. You can go with any color that you'd like and not have to worry too much about the theme since this skirt will take care of that for you! A simple white or pink spandex tablecloth would do the trick. 
Pros:
Cute design and color
Same material as ballet skirts and tutus
Easy to use and clean
Won't leave residue on table
Hides the underside of the table
3 size options to fit your needs
Cons:
You'll need a tablecloth as well
Tears easily especially with younger kids around
9. Pointe Shoe Pedestal Cake Stand
Whether you are serving a cake, cupcakes, or a bunch of smaller desserts, you need something to display them on. This ballet slipper pedestal cake stand is the perfect option for your ballet themed birthday party. 
This cake stand's stem is shaped like pointe shoes and the platform itself is a pink ballet skirt. It is made out of hand-painted high-gloss ceramic which gives it a shine in the light and a high-quality appearance. 
The plate surface is 7.75 inches in diameter and it stands 6 inches tall. This is a classic size for a small pedestal cake stand, so there will be no surprises there. You can use this for your cake of an array of cupcakes, cake pops, stacks of cookies, or really anything you can dream up. 
This design is elegant and classy. It can be dressed up for a more sophisticated party or down for a cute playful birthday. It can also be repurposed for other party types in the future since it isn't too childish or mature. 
Pros:
High-quality ceramic
Hand-painted high-gloss finish that shines in the light
Classy design
Works for many ages and functions
Versatile
Matches any remotely ballet-centered theme
Cons:
On the smaller side at 7.75 inches in diameter
More expensive than other options, sitting at around $45 from Amazon
Breakable
Must be hand washed
10. 48 Piece Ballerina Balloon Set
Having a couple featured balloons is great, but sometimes you just need lots of regular balloons to fill every corner of your house or venue. You may even want to construct a balloon arch or other fun design. This 48 piece Ballerina Balloon Set is perfect for all your balloon needs.  
Featuring 6 different matching designs and 48 total balloons, you will be hard pressed to run out of balloons for your decorating needs. With a variety of pinks and whites, you should be able to match your other decorations with ease. 
These 12 inch latex balloons are super cute and work really well for a younger dancer. They have tutus, pointe shoes, ballerinas, stars, hearts, and bows: everything your young dancer could ask for. 
Pros:
6 different designs in a variety of pinks and whites
48 total balloons
Great for younger dancers
High-quality latex
Great price point at around $10
Cons:
Wouldn't work for older dancers or more sophisticated parties
May not be to every dancer's taste
11. 100 Piece Ballet Cellophane Goody Bags
If you are looking for goody bags, look no further. These ballet-themed cellophane goody bags are perfect for a variety of applications at your ballet birthday party. They are clear, so you can see all the fun goodies inside, while still showing cute pink ballerinas on the bag. 
These are a classic goody bag size, at 10 inches tall and 5 inches wide. They can fit all sorts of goodies and treats. They also come with twist ties. The 100-count ensures that you will never run out of bags, even if you need some extras. 
Pros:
Classic goody bag size can fit a variety of different applications
Clear bags with a cute pink ballerina pattern
Plenty of bags even if replacements are needed
Twist ties included
High-quality cellophane that won't tear easily
Cons:
Too small for larger party favors
Can't hide any surprises due to their clear material
Conclusion
There are countless options for a ballet themed birthday party, but the 11 items listed above will give you a head start in your planning. If you found this list helpful, be sure to comment down below and share it with a friend. And don't forget to refer back to this list any time that you need inspiration or a great product for your party.